North Florida is mostly known for shootouts, meth, and inbreeding. Positive traits such as social science, compassion, and intelligence are hardly ever found there. North Florida is also known for its rampant racism, because the further north you go here, the deeper in the south you are.
So, when two freshmen students at UNF berated a group of people exercising their constitutional right to free speech, they were simply marking their territory and verifying this stereotype.

After a Black Lives Matter event was held at the University of North Florida, a video that Zachary Morse uploaded was found, featuring him and his friend jumping around like monkeys, captioned "what actually went on at the BML rally." Note that he couldn't even spell the acronym "BLM" right, as we are assuming this video refers to the BLM rally happening around the same day.
His mother actually emailed us and said that the "BML" reference "was intentional and not a misspelling." Nice try. Even as Floridians educated in Florida we're not that gullible or naïve.
thetab.com tried to contact him for comment, but he deleted all his social media accounts after realizing how stupid he looks to the rest of the civilized world. The school did not punish the students, according to firstcoastnews.com
Earlier that day on October 11, he had been spotted in a small group of Trump supporters that were protesting against a peaceful assembly called "Take A Knee UNF: BLM Rally".
President of UNF's Students for Democratic Society told thetab.com that "During the rally we had a few people oppose us – they called me personally a 'n*gger bitch' and all other types of slurs. "
unfspinnaker.com confirmed that the Snapchat account which posted the video belongs to University of North Florida student Zack Morse. He said that it was an "insider joke," you know a joke that only racist buffoons would find funny. Their desperation is funny though.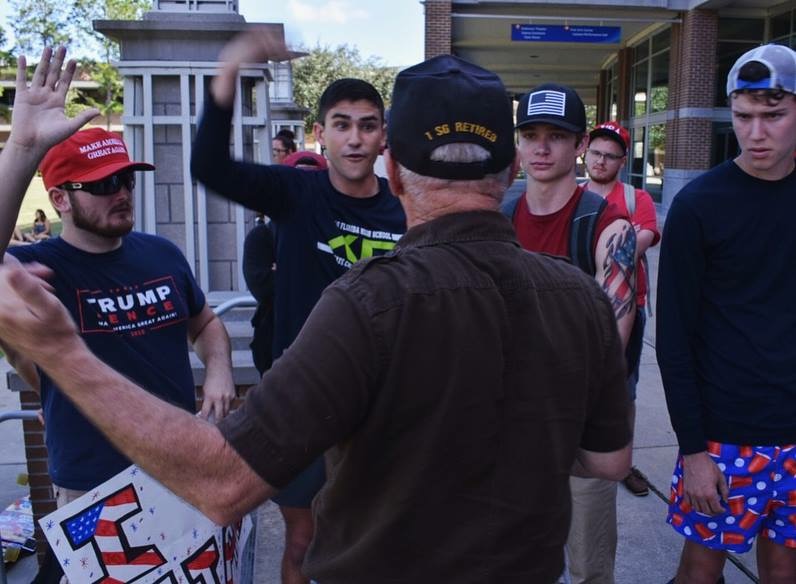 The original event posted on meetup.com invited people of all walks of life to advocate for police accountability and to take a stand against white supremacy. The event was held in solidarity for all people, black and white, united under the very American code of fostering liberty. From their own words:
Come out as UNF shows solidarity for the struggle that is sweeping the nation…
A real American would love an event like this, but it did not sit well with a few angry, obsolete, idiotic rednecks. They protested, and when that alone did not quench their thirst for feeling superior, a couple of them showed their true pettiness by creating this video.
Now, to be fair, they have a first amendment right to make themselves look stupid. The fact that they had to stoop to such a ridiculous level to placate their anger means one thing: they lost already. We have the same rights as them (which is why at WTF Florida or "WTFF News," we make fun of Florida so much, even though it's flat out stereotyping). The difference is that WTFF is not trying to squash very important civil rights movements, and our motivation does not stem from hatred for a group of people who continue to face treacheries today, 150 years after 400 years of slavery and abuse. Slavery was never truly abolished, it simply evolved.
People, take a step back and let these fools show their true colors. We must find a balance in reacting to things like this. If we become too emotional, we are ineffective and our days are ruined. If we are too lax, we enable these hateful people and endanger the very fabric of our beautifully diverse country. The UN already warned us about our racism problem, and they have been known to occupy countries that prove they can't govern themselves.
Keep in mind that these hateful, ignorant people are the loud and few. Just as children throw tantrums when they don't get their way, people with no other means tend to do stupid things when they feel frustrated. Pity them, and let them know that we as Americans will not tolerate ignorance and hatred. Then get back to your day and continue being great. That's what pisses them off the most, seeing other people succeed. Let's not bring ourselves down to their level of petty.
For hate is not conquered by hate:
hate is conquered by love.
This is the law eternal.
– The Dhammapada
---
UNF published this statement, but as we know, public relations people will say anything to keep the pressure off. Comment below and let them know we are watching: