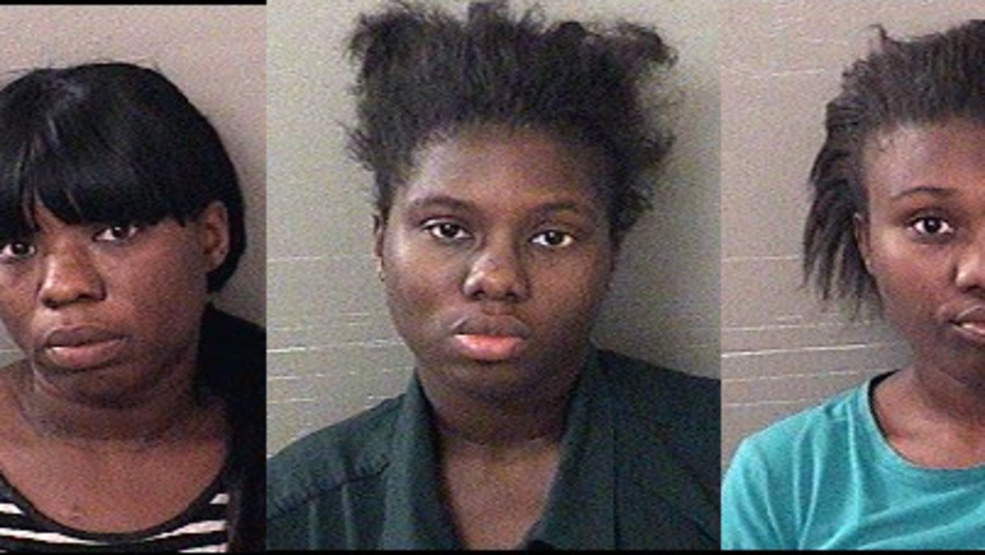 PENSACOLA, Fla. (WEAR) — Three women were arrested in the south Pensacola area for allegedly beating a man with their fists, sticks and a beer bottle.
Police say they also stole the man's car, while his fiance's stepson was in the front seat.
Shi'esha Effinger, 20, Casandra Posey, 35, and Seleste Warren, 19, were all arrested and placed in Escambia County Jail for allegedly assaulting Thomas Johnson in the 2800 block of West Gadsden Street.
On Thursday, the Escambia County Sheriff's Office (ECSO) say Johnson told them the three females approached him as he was getting into his Mazda 6 with his fiance's stepson and began yelling and cursing at him, telling him he owed them money.
Soon after, Johnson said the women started punching him. Johnson told authorities that Effinger — the daughter of Posey — climbed into the Mazda and drove it "approximately two and a half blocks away," before getting out and allegedly heaving the keys in an unknown direction.
The keys were later retrieved by authorities off of a rooftop.
As Johnson ran after his car, Warren and Posey allegedly hightailed after him those two and a half blocks. When he reached the Mazda, Johnson said the other two women started beating him with sticks and a beer bottle. Authorities say they saw that the bottle had been broken when they got to the scene.
The ECSO noticed cuts and swelling on Johnson's head and neck.
When authorities questioned Posey about the incident, she claimed Johnson had attacked her daughter, Effinger. She allegedly told authorities that made Effinger "angry," so angry that she got into his vehicle and drove away.
A neighbor who witnessed the altercation said he saw the women punch Johnson and beat him with sticks and bottles.
All three women posted bond Friday. They all face felony battery charges, while Effinger also faces one felony count of grand theft of a motor vehicle.
Source: weartv.com