Lake Worth (WTFF) – A "power outage and zombie alert" message was issued to Lake Worth residents early Sunday morning.
"Power outage and zombie alert for residents of Lake Worth and Terminus," read the alert issued at 1:41 a.m. "There are now far less than seven thousand three hundred and eighty customers involved due to extreme zombie activity. Restoration time uncertain."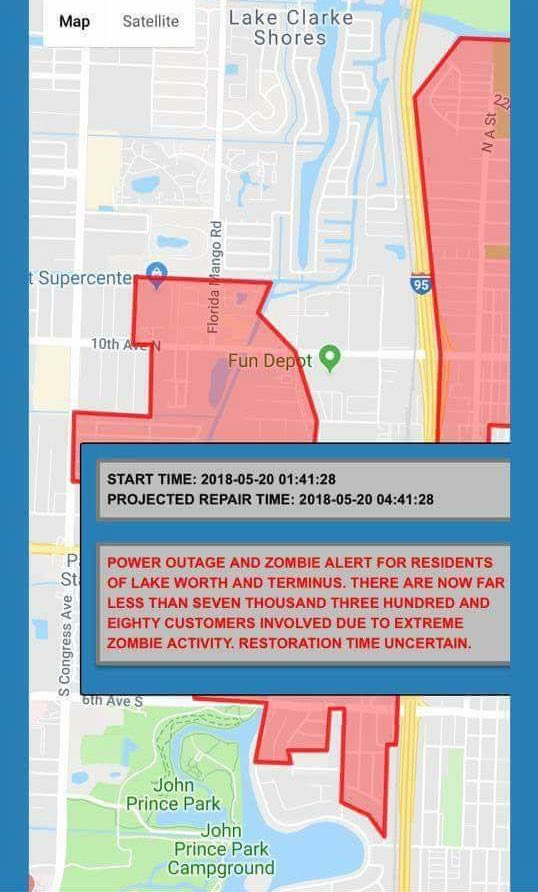 Unfortunately, there weren't any zombies for real. A lot of news stations covered this already, we're just writing this story for archival purposes, as most Floridians have already heard about it.
Nobody really knows if the hilarious push notification was a joke, or if their emergency alert system got hacked.
The city's public information officer, Ben Kerr followed up with this message:
"7880 customers were effected, power was restored within 27 minutes. We are looking into the reports that the system mentioned zombies, I want to reiterate that Lake Worth does not have any zombie activity currently and apologize for the system message. Protective Relays operated as designed to isolate a fault within the boundaries of a main system Transformer. The restoration process started within 16 minutes, with full restoration occurring at 27 minutes. Engineering will perform a full review of the transformer prior to return it to service."