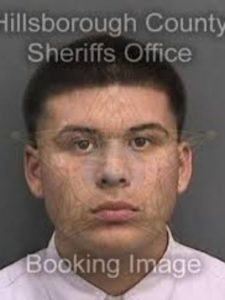 A Lehigh Acres man is facing animal cruelty charges after he hit a flamingo at Busch Gardens with a rock, Tampa police said.
A report by WSTP-TV in Tampa said Julian Antonio Marquez, 19, was identified as the rock thrower.
About 5:49 p.m. Friday, police were called to the theme park's flamingo display after a report of a man throwing a rock at one of the birds. The bird was struck and seriously injured, police said.
Witnesses identified the rock thrower as Marquez. He was arrested and charged with cruelty to animals.
WINK News reported Sunday that Marquez is facing aggravated animal cruelty charges according to the Hillsborough County Sheriff's Office.
The rock hit the bird, which fell to the ground, Tampa police said. The bird was seriously injured, according to police. WINK-T also reported that Busch Gardens spokesperson Karen Varga-Sinka said Sunday the flamingo was suffering no apparent injury or distress and was doing fine.
Busch Gardens is continuing to monitor the bird.
Marquez is free on $2,000 bond.
Source: news-press.com