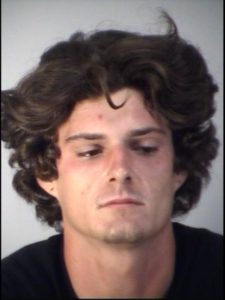 Astor (WTFF) – A Florida man caught driving with a suspended license and the wrong tag on his truck was arrested without a struggle.
On Sunday around 3:00 in the morning, someone called the cops to report a vehicle that ran into a ditch and quickly left.
A sheriff found tire marks around Panther Rd., according to the arrest affidavit. The tire tracks were traced a few houses up. There were two trucks matching witness descriptions. They both started driving east when they saw the law officer.
A red Chevy pickup truck veered into the grass and sped past the other truck, passing it on the right like a true Florida Man. The sheriff followed the Chevy to Alley Cat and Fern Rd. in Astor and made a traffic stop.
"You can just take me to jail now," said the Florida man.
"Why?" replied the sheriff.
21-year-old Colby Ewseychik, of Sorrento, confessed that his license was suspended because of a DUI. It also appears that the tag on his truck was not assigned to him.
Colby was charged with two offenses: "DRIVING WHILE LICENSE SUSPENDED WITH KNOWLEDGE DUI," and "ATTACHING TAG NOT ASSIGNED LICENSE PLATE."
He bailed out a few hours later for $2,500.
Also, a citation was issued to Colby for overtaking the other truck on the right side. In case you're from Florida and don't know, it's against the law to pass on the right. Always use the left lane to pass, and move back over to the traveling lane once you've successfully overtaken the vehicle.
Colby is a Florida Native.