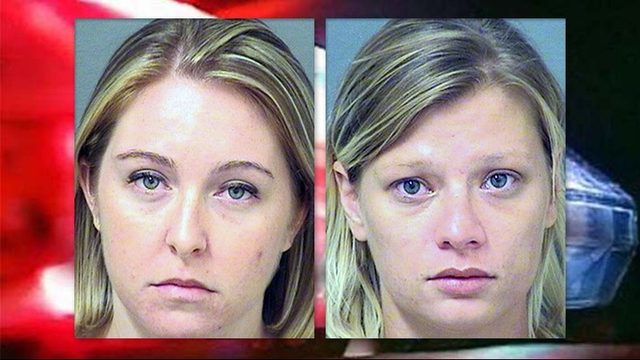 BOYNTON BEACH, Fla. – Two women are facing child neglect charges after Boynton Beach police found them overdosed on heroin with their two infant children in the car, according to a police spokeswoman.
June Ann Schweinhart, of Lake Worth, and Kristen Leigh O'Connor, of Coral Springs, are being held in the Palm Beach County Jail. Schweinhart, 28, is being held in lieu of $3,000 bail, and O'Connor, 27, has a $4,500 bail.
The babies, ages 1 month and 2 months, were brought to the police department and were turned over to family members after the Florida Department of Children and Families was notified.
Police found the women overdosed inside a 2006 Ford Expedition, just west of Federal Highway, at about 1 p.m. Thursday, according to an arrest report.
The women were taken to Bethesda Hospital East.
O'Connor told police she and Schweinhart knew each other from a drug treatment program and decided to "hang out" on Thursday, the report said.
FLORIDA PRO TIP: If you want to score drugs, go to any rehabilitation center and you will hit the mind altering substance jackpot. Also equally important, if you DO NOT want your drug-addicted kids to die, move them anywhere but here. Florida takes junkies to another level. Don't be stupid. Read our headlines. Understand what you're doing to your little Yankee if you send them here… they will overdose, and they will die. Now stop shipping them to our state…
O'Connor said the women became close friends because their babies — which were born four days apart — had the same due date.
On Thursday, the women bought $60 of heroin from O'Connor's drug dealer and snorted it inside a parking garage, with the infants inside the vehicle, the report said.
O'Connor told police she allowed Schweinhart to drive her vehicle because she thought her friend could operate the SUV better under the influence of heroin, according to the report.
Shortly after leaving the parking garage, O'Connor began to shake and became unresponsive, the report said.
"Oh my God, oh my God," O'Connor said she heard Schweinhart say before losing consciousness.
The children were properly strapped into their car seats in the vehicle's rear seat when police found them, according to the report.
During a court appearance Friday, a judge ruled that O'Connor can have contact with her child only while her mother is present.
Child neglect is a third-degree felony punishable by up to five years in prison.
Source: wftv.com