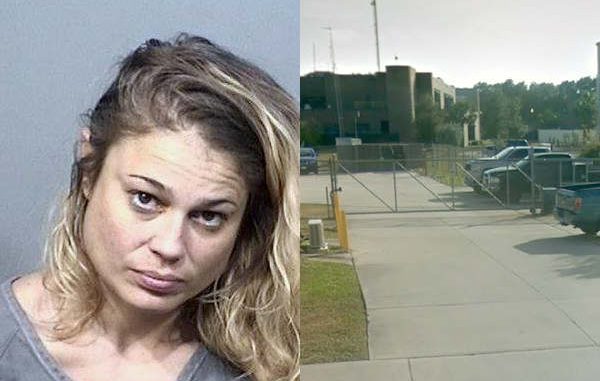 Brevard (WTFF) – A woman was arrested in Palm Bay after she parked in a restricted parking spot at the Palm Bay Police Department and was found to be drunk.

36-year-old April Leigh Smith was intoxicated when she drove her car into a restricted parking area in the Palm Bay PD headquarters.
The parking zone is littered with signs like "Do Not Enter," and "No Trespassing," and "Official Vehicles Only." There's also a giant gate blocking entrance. Florida Woman heeds no signs, and did not let all this impede her.
She somehow made it past the gate and cruised right into the station's off-limits parking lot.
An officer spotted her as she stumbled her way out of the vehicle, "appearing confused as to what she was doing," according to Palm Bay Daily.
The officer asked her what she was doing there…
April said she was looking for a friend. She reeked of alcohol.
"I contacted her and noticed slurred speech, an odor of an alcoholic beverage, glassy and bloodshot eyes," the officer said.
Florida Woman blew a .148 on the first BAC test, and a .142 on the second. Impressive. Twice the legal limit.
In typical Florida Woman fashion, her driver's license had been revoked since 2015 for "various reasons."
She was arrested and thrown into the Brevard County Jail.