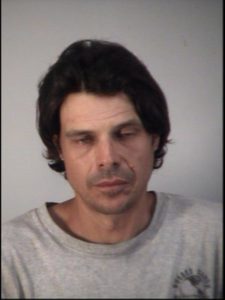 Clermont (WTFF) – A Florida man reportedly stole a bicycle resting outside of a Goodwill store and posted it for sale on Facebook using his personal account.
On Monday, a Clermont Police Department officer responded to a theft complaint at Goodwill (1855 S Grand Hwy). The arrest affidavit says the victim estimated the stolen bike's value at $350.
Around 1:00 pm she parked her bike outside Goodwill and went inside to peruse the aisles of used, but often useful stuff. The bike was not locked. She checked on it after some time, and saw the bike was still there.
Later, when she checked again, the bike was gone.
The suspect, later identified as 43-year-old Nathan Nasiatka, was seen on surveillance video walking into Goodwill for about 20 minutes, exiting, and walking away with the bicycle.
Officers found him at a Sunoco gas station a few hours later. Florida Mans often reside around gas stations and convenience stores.
By that time, he had already used his cell phone to post the bike for sale on Facebook. He used his personal account, under the name Nathan Nasiatka. The listing price was $20.
Nathan kept telling officers the bike was his. Then he said it was his sister's.
The Florida man was arrested and charged with Larceny Grand Theft (less than 5k) and Dealing in Stolen Property.
Nathan's originally from Ohio, and now lives in Clermont on a dirt road near the Turnpike.