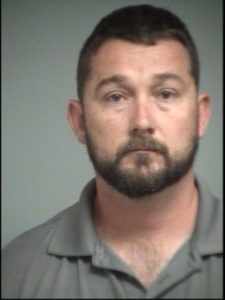 Groveland (WTFF) – A Florida man living on Swamp Dr. has been arrested after allegedly running over his neighbor's fence and shooting a deer.
The landowner reported that a trophy deer had been killed by one of his neighbors on January 3, according to the affidavit of probable cause.
The landowner had many pictures of the deer while it was still alive.
He went to the area where the deer was usually seen and found that "a set of tractor-style tire tracks had run over his barbed wire fence," leading right into his neighbor's property.
There was a "NO TRESPASSING" sign "on the ground next to the broken fence."
He found a puddle of blood on a ground palm tree and followed the tracks into the neighbor's property. That's when he called the FWC.
On January 8, FWC officers returned to speak with the offending neighbor, Jonathan Knoblauch.
They waited at a locked gate. A Mustang drove in and the gate was quickly shut again by a man in a black Toyota truck. The truck driver gave the officers a "very defiant look."
Eventually Knoblauch showed up in his blue Dodge truck, and two men later identified as Knobaluch's father and possibly brother opened the gate to let him in.
They quickly locked the gate behind him and expressed "hostility," towards the officers.
"This is harassment, y'all have been here every day since, y'all already wrote him a ticket!" drawled one of the men. An officer asked him who had returned and when, but they couldn't come up with an answer.
The officers said they need to speak with Knoblauch. One of them pretended to be on the phone to ignore them. Another crossed his arms.
Knoblauch finally walked up and told the officers that his lawyer advised him not to say anything.
The next day, the FWC came back with a search warrant. They found deer parts, weapons, and ammo, all of which were seized.
"It's just a deer! I just shot a deer!" exclaimed Knoblauch before he was arrested.
Knoblauch admitted to killing a trophy deer on the property, according to court documents. He's a 34-year-old Florida Native.
In regards to the tire tracks and downed fence, he told officers that "the deer had run once he shot it and he drove through the fence to retrieve it onto the neighbor's property." He also said "that sign wasn't there," most likely in regards to the no trespassing sign.
Knoblauch was charged with Armed Trespassing and Breaking Fences Containing Livestock. He bonded out with $10,000 less than an hour after his arrest.