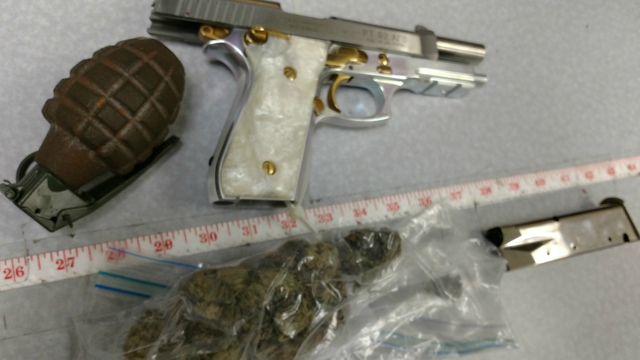 Gainesville (WTFF) – Two men were arrested after a traffic stop revealed a 9mm Taurus handgun, a little weed, and a hand grenade.
Gainesville PD was out cruising around and spotted a white Pontiac Sunfire driving around the Ridgeview neighborhood going way under the speed limit. Driving too slow in a Pontiac is a tell-tale sign of a stoner.
When the officers pulled the car over, they smelled dank weed.
The driver, 33-year-old Alica Mann was on felony probation, according to FOX 35.
His passenger was in the back seat… Jeffrey Summerlin, age 62. Don't ask. We really don't know. It's Florida.
Both of them allegedly had no idea why the car smelled like fresh cannabis.
The officers searched the backseat passenger Summerlin and found a 9mm Taurus handgun.
"Got anything else on ya?" asked the cop.
"A grenade," he replied.
The officer is a bit of a historical weapons buff and quickly detected that it was an inert WWII Pineapple grenade. Phew. No explosions.
They also found a mason jar with 21.6 grams of weed next to Mann's clothes.
Both "Florida Mans" were charged with possession of a concealed firearm and possession of more than 20 grams of cannabis.