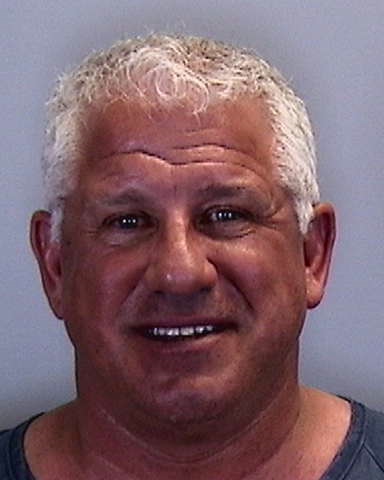 Manatee County (WTFF) – Gary Kompothecras was arrested on DUI charges early Thursday morning.
The 57-year-old Sarasota resident is infamous for his "1-800-ASK-GARY" lawyer and chiropractor referral business, which is "a massive fraud scheme," according to State Farm, who sued 1-800-ASK-GARY for taking advantage of Florida's no-fault insurance benefits. (Star Tribune, insurancefraud.org)
He also bought his son a "reality" TV show that the locals hate, called "Siesta Key." MTV produced the show. His son, Alex, stars in it. Alex Kompothecras was caught on video shooting a hammerhead shark in the gills, and was rumored to have been the one filming as three of his buddies tortured marine life.
On Thursday, Gary Kompothecras was drinking wine at the Hard Rock and started "having some type of issue with his wife," according to an arrest report.
He hopped into his silver Porsche and sped south down I-75, drunk. A Manatee County Sheriff's deputy pulled him over at about 1:40 a.m. on the JD Young Bridge.
Gary was going about 100 mph.
The deputy could smell alcohol in the car and on his breath. Gary admitted to drinking earlier.
So, the deputy had him perform a series of field sobriety tests.
"He agreed to the exercises but would state numerous times that he had an issue with his feet that affected his balance," said the deputy in the arrest report.
Even while using his arms for balance, he couldn't walk a straight line. The deputy even explained and demonstrated the exercise, walking and turning. Gary just couldn't figure it out though.
He looked drunk, and refused to do the one leg test because "it required him to balance." Go figure.
But this wasn't over yet… It was time to do the Romberg Alphabet test…
"The defendant stated that he had a PhD and knew the alphabet. The defendant opened his eyes during the exercise and could not complete reciting the alphabet despite numerous attempts."

He was arrested and taken to the Manatee County Jail, where he bailed out for $500.