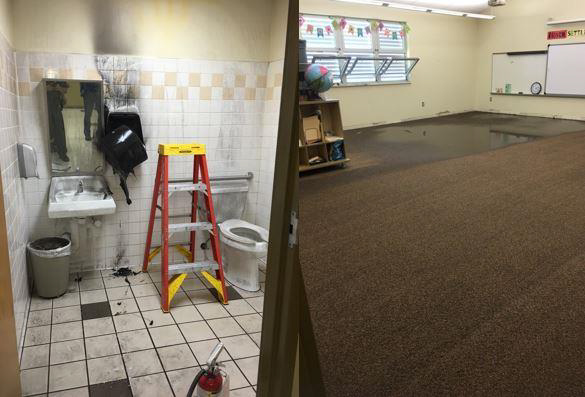 Palm Coast (WTFF) – A 1st grader Florida boy might get suspended after starting a fire in the school bathroom.
On Friday afternoon, at the appropriately named "Rymfire Elementary School," a fire alarm was triggered. Flagler County Sheriff's Deputies arrived and discovered that a 1st grade student had lit a paper towel dispenser on fire.
He was trying to "change the color of his mood ring," according to a press release.
The sprinkler system went off, causing at least one classroom to flood.
Nobody died. Nobody got hurt.
"I would like to thank the deputies who responded quickly to the elementary school and assisted the school and fire department," said Sheriff Rick Staly. "This underscores why it is so important to have a deputy in every school and fortunately next year every elementary school will have one. It also emphasizes the need for parents to be parents and teach their children right from wrong."
The Florida Boy was issued a civil citation.
Rymfire Elementary is currently discussing disciplinary actions leading up to a 5 day suspension for the little rascal.