A Florida police officer responsible for killing a man's dog after he entered the wrong apartment in a botched raid committed no rights violations and is entitled to immunity, a federal court has ruled.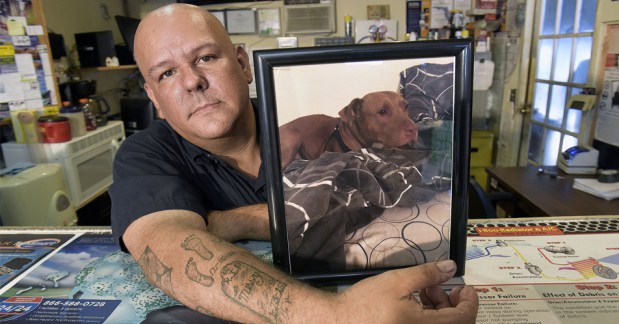 According to a federal lawsuit, Officer Michael McBride was one of six Hollywood police officers and two Broward Sheriff's deputies that were following up on a tip in January 2015 that a robbery suspect might be hiding in an apartment complex.
Unaware that a man inside, David Jimenez, went by the same nick name as the robbery suspect, the cops asked residents if they knew a man named "Flaco." The officers never mentioned the real name of the man they were looking for, Francisco Quintana.
After learning that "Flaco" was in the apartment complex, the cops sealed off the exits and began banging on the windows and doors. According to the lawsuit, when Jimenez came to the door, his roommate's 65-pound red-nosed pit bull Missy ran outside toward the exit of the apartment complex.
As a result, a K-9 officer kicked Missy in the side to keep her away from his police dog. The lawsuit, filed by Missy's owner Wilson Almendarez, said Missy did not try to attack any of the cops, or the police K-9.
Instead, she continued to run toward the complex's exit. It was there where Officer McBride stood with his weapon drawn. What happened next was captured by a Telemundo camera crew that had been filming the raid that day.
According to the lawsuit, McBride was captured on the footage bending down while continuing to fire at Missy as she ran past him into the courtyard. Missy was hit six times and sustained fatal injuries.
Following the raid, Jimenez was arrested. He was later released however after police realized they had the wrong man. As it turned out, Quintana had been arrested the previous day in Miami-Dade County.
Despite the fact that McBride shot at Missy as she was running away from him, a review of the incident by the Hollywood Police Department found the shooting did not violate department policy.
"They were looking for someone arrested the day before," Almendarez's attorney, Heidi Mehaffey said. "They were surrounded by television crews looking for action. And they shot the dog while she was running away from them."
"They were looking for someone with a nickname Flaco," Mehaffey added. "Had they asked for the actual name, they would have known he was the wrong person."
The lawsuit accused police of violating Fourth Amendment protections against unreasonable search and seizures. It sought damages in excess of $250,000 against McBride, the city and Hollywood Police Chief Tomas Sanchez.
"She was my baby," Almendarez said. "She was everything to me. She did not deserve to die like that. She was a loving dog."
On Monday, U.S. District Judge Ursula Ungaro ruled that McBride is entitled to immunity in the case under a legal doctrine that stipulates cops not be liable for their actions unless they are clearly incompetent or criminal. Ungaro held that McBride did not violate Almendarez's rights during the raid.
"The judge has made her final decision. And while we respect her decision, we don't agree with it," Mehaffey said. "We do believe this is a sad day for pet owners."
Source: policestatedaily.com
And to think, this dog wasn't even guilty of doing cocaine…