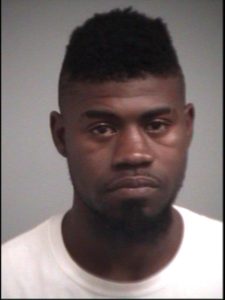 Groveland (WTFF) – A Florida man driving with a suspended license tried swapping seats when pulled over.
24-year-old Florida-born Terrell Edwards was allegedly driving East on SR-50 in Groveland when a sheriff noticed the vehicle's illegal 6% tint. Around 1:30 pm on April 5, a traffic stop was conducted, according to the arrest affidavit.
While in pursuit, Terrell drove like a typical bad Florida driver. His vehicle "swerved within its lane several times, as well as crossing over the center line." He finally stopped on Division St.
When the sheriff walked up, he found Terrell sitting "sideways" with his legs still on the drivers side, attempting to "situate himself in the passenger seat." The passenger and driver "attempted to exchange seats," but were not quick enough.
Terrell was arrested and taken to the Lake County jail. He was charged with a "Moving Traffic Violation – Driving While License Suspended – Habitual Offender."
A few hours later, $5,000 bonded him out.