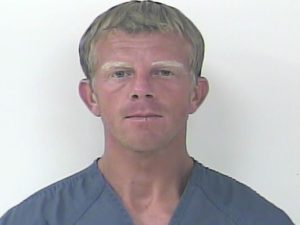 Fort Pierce got some attention from the FBI on Thursday, Sept. 28 when they assisted St. Lucie County Sheriff's officers with an arrest.
Charles Baker merited the visit by sending an online note to the FBI claiming to be a "very good bomb maker." They were not impressed with his self-proclaimed skills. Perhaps if he wrote it like a resumé they would have offered him a job, but he spoiled his chances already…
He also threatened to kill any "fake feds" that come to his home.
In the note he mentioned that he's needed the FBI for five years, and included a Department of Corrections inmate number.
We aren't really sure what any of that means, and there's a good chance that Charles doesn't understand either.
To top it all off, Charles confessed that he "need(ed) to start killing now."
His pen pals at the FBI said it's not the first time he's done something like this.
Back in October 2015 he sent hem another letter, and the same Department of Corrections number was found carved into a bench in Stuart. The next day a handwritten note with a similar statement was found in the depths of a Sunoco gas station bathroom.
So who is the mystery person that this number leads to?
Charles Baker himself.
The FBI called Charles, and asked him WTF was going on.
He told them that he had "top secret items" to provide to them.
In November 2015, another message was scribbled into a bench in Port St. Lucie. The FBI asked him to stop.
A true Florida Man, our secret-ridden friend Charles has been found guilty of a whole slew of charges in the past, such as: battery, criminal mischief, grand theft, loitering, possession of a firearm by a convicted felon, petty theft and possession of drug paraphernalia.
He spent a few days in the St. Lucie County Jail and was released on Saturday on a $30,000 bond.
Park benches all over the state are terrified by the fact that he's free again.
Source: tcpalm.com