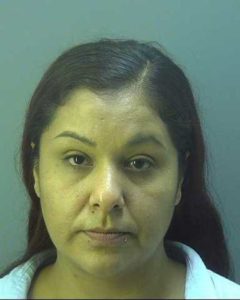 Clewiston (WTFF) A substitute teacher in Hendry County has been arrested on drug and neglect charges.
According to fox4now.com the 35-year-old Florida Woman sold "marijuana" to two Clewiston Middle School students.
The students were not happy with the purchase. They complained of being ill after smoking it.
If these middle schoolers were anything like us growing up in Florida, they know what good weed does to your body. Good weed helps relax your digestive system. Bad weed makes things worse, and very often isn't even cannabis at all…
Today's generation is quick to run to Yelp to leave bad reviews. In the case of illegal activity though, there is no underground Yelp, so these little brats dialed 911.
Because they're tiny, no charges were pressed for the crime they committed by actually buying the illegal substance. Instead, like usual, parents just blame the teacher… not that she's innocent by any means, but it takes two to tango.
"We put our kids in the trust of these teachers and, you know it's just a sad situation" said Scott White, one of the many parents who blame everyone except their bad ass kids.
Maria Otilla Rivera-Magana was charged with two counts of Possession of Synthetic Drug, with Intent to Sell within 1000′ of a School, Two counts Possession of Marijuana within 1000′ of School, Two counts Possession of a Controlled Substance with Intent to Sell within 1000′ of a School, Two Counts of Contributing to the Delinquency of a Minor, Two Counts of Interference with and Two counts of Neglect of a Child. Additional criminal charges are pending.
WTFF News has contacted the Hendry Sheriff's office asking them to clear up what exactly was sold to these students. We believe that is was actually synthetic drugs (like Flakka and the litany of other names) that were sold to them, and not marijuana as the Fox 4 article stated. We are awaiting their response.
What probably happened is that two kids who frequently enjoy smoking weed tried to use their teacher as a source. She probably thought, "oh, these little twerps won't know the difference" and sold them K2 or some other garbage that is far more dangerous. Obviously, it's not a good thing to sell cannabis or drugs to children, but there's always more to the story. This entire paragraph is just a hypothesis though, we can't say for sure until the Sheriff's Office replies, and until we gather more facts.
Rivera-Magan had her first appearance in front of a judge Saturday morning. Her bond is set at $100,500.