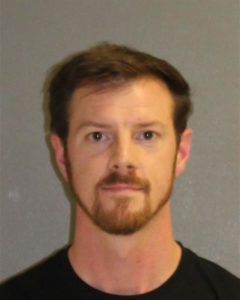 Deltona (WTFF) – A former pastor at a Deltona church is facing a felony charge of video voyeurism after a member of the church reported he took a photo up her dress when she was in his office with his children.
Brian Kenyon Jr., 31 (DOB 8/12/1986), of Lakeland, was arrested Thursday afternoon at the Volusia County Branch Jail on Thursday, the week after a warrant was issued for his arrest.
The case was reported on April 24 at the VCSO District 4 office in Deltona. The victim, a 41-year-old woman, told a deputy the incident occurred when she attended Sunday service on April 8 at the Church of Christ of Deltona at 1301 Providence Blvd.
The victim said she was meeting with Kenyon in his office along with his children, and he asked her to put his youngest child into a car seat. As she bent over to do so, she felt skin against her leg, turned around and found Kenyon bent over directly behind her. She noticed he was holding his cell phone and it had a red light on.
The victim and other members of the church later confronted Kenyon about the incident, and he was removed from the church.
Church staff reported he had no unsupervised contact with children at the church, and the church had not received any complaints about any inappropriate behavior with children. Anyone who has any additional information about other incidents involving Kenyon is asked to contact the Sheriff's Office.
Kenyon was released from the Volusia County Branch Jail on Thursday afternoon after posting $2,500 bail.
Source: VCSO News Release