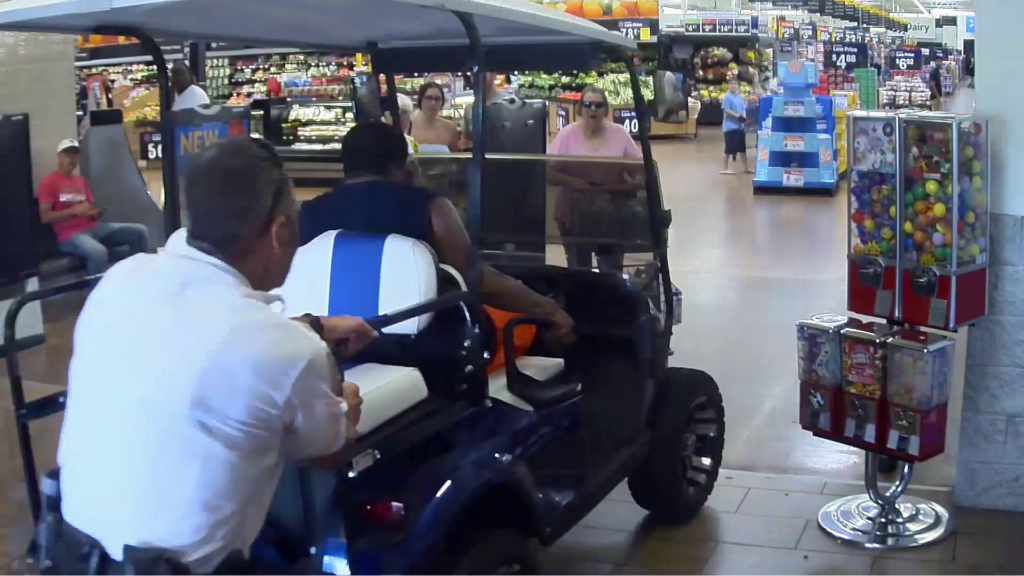 Gibsonton (WTFF) – A Florida man was arrested after crashing his golf cart into a Walmart on Thursday, according to the Hillsborough County Sheriff's Office.
Deputies say 56-year-old Michael Dale Hudson was blocking the liquor store entrance on his golf cart and demanding to speak to the manager around 12:30 p.m., the Tampa Bay Times reports.
Rather than talk to the cops, Hudson suddenly drove away and raced towards the main entrance of the Walmart on 9205 Gibsonton Drive.
Several pedestrians were struck along the way.
Hudson ignored deputies' orders to stop, and drove through the glass doors. This was caught on surveillance video:
Inside, he crashed into several patrons and caused many others to leap for safety. Finally he crashed into a register, where deputies arrested him.
A few people were treated on-scene by paramedics, but nobody went to the hospital or died.
Hudson was taken to Tampa General Hospital but deputies did not say why he required medical treatment.
Soon he will be booked into county jail on multiple counts of aggravated battery/aggravated assault with a motor vehicle and charges of trespassing after warning, resisting arrest without violence and felony criminal mischief, the agency said.
Earlier this week, the same store was evacuated because of a fake threat.
From Tampa Bay Times:
A man called the store on Sunday and threatened a shooting attack, deputies said, a day after a massacre at a Walmart in El Paso, Texas. Nearly 1,000 shoppers were evacuated while deputies investigated the threat. They eventually arrested Wayne Lee Padgett, 31, of Valrico, on a felony charge of filing a false report of using a firearm in a violent manner.
Backup video: