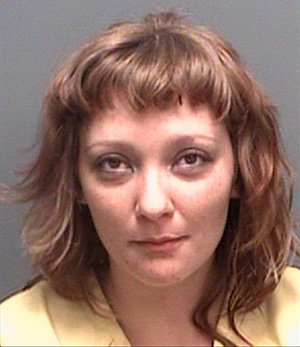 Pinellas Park (WTFF) – This all started like any typical afternoon in the Tampa Bay.
Motorists were driving by a bus stop on 49th Street and saw Florida Woman chugging a Skol Vodka and "simulating sex acts." This is pretty standard behavior for a Trampite. Masturbation relieves the stress of being alive in the Wild West of Florida.
The 34-year-old Clearwater resident was providing some much needed entertainment for the locals who were stuck in rush hour traffic… but not everyone was happy.
Somebody (probably an out-of-towner who isn't used to the Tampa Bay area) called the cops and they showed up to meet Nicole Shankster.
One of the cops was black, and Florida Woman repeatedly called him a "n*gger" while she stumbled around chugging her vodka and fingering herself.
The cops had enough of her idiocy and went in to arrest the feral Trampite.
The excitement of being detained turned her on even more. She began to masturbate even more furiously as the arresting officers tried to cuff her.
She was taken to the St. Petersburg General Hospital for treatment, but there is no cure for Florida Woman. Her naughty behavior continued.
"The defendant did intentionally sexually satisfy herself on my left arm," said one of the officers in his arrest report.
She was even able to lick his right arm.
She was taken to the Pinellas County Jail. Her bond is $5,100 in case anyone's interested.
Sources: bradenton.com, thesmokinggun.com