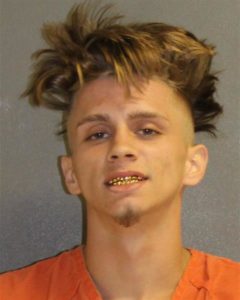 Volusia County (WTFF) – A Florida man was arrested on Saturday night after driving like an idiot on I-4.
Zachary Dreiling is facing three charges: DUI, Fleeing, and Possession of Cannabis. He also got cited for modifying his exhaust and failing to maintain a single lane.
He's 19 years old and was born in Longwood.
Like most of the drivers here, Zachary was swerving all over I-4. His loud "modified exhaust" and failure to maintain a single lane cued a trooper to pull him over, states the arrest affidavit.
Two vehicles were "hugging" a lane to prevent the red BMW 335i from crashing into them. Zachary kept riding the right solid line, in a way that "impaired" people do.
Lights. Sirens.
Zachary sped away at highway speeds, continuing east past the 118 mile marker.
"The driver of the vehicle was making hand gestures outside through the driver's window which is also not normal," wrote the trooper in his report.
Around the 123 mile marker, a passenger in the backseat emptied out "a baggy of hard substance" that bounced off the ground and pattered the trooper's windshield "like small pebbles."
At the 125 mile marker, "a large amount of chunky green leafy substance was thrown out."
Stop sticks were set up at mile marker 129. They didn't work. The Florida Man continued driving.
The trooper got into position to do a PIT maneuver, but waited, "to avoid unnecessary injury." Zachary finally pulled over.
Inside the car was a "half smoked blunt," and some weed in a jar. Zachary was covered in "chunks" of marijuana, on his "boxers and inside his pants."
"The driver stated he didn't want to stop on the interstate because it wasn't safe."
He claimed he wasn't drinking, which was actually the truth, verified by breath sample. Somehow he still got hit with a DUI charge for "Driving under the influence of Alcohol," according to the report.
At the Volusia County Branch Jail, Zachary stated the obvious before taking a urine test:
"You know I'll piss dirty."
Small flakes of marijuana fell into the toilet when he unzipped his pants.
He has since been released.
None of this is really "news," but we figured y'all would get a kick out of the mugshot.