Gary Kompothecras is seeking help reviewing his hotel project as the MTV reality series starring his son launches this week.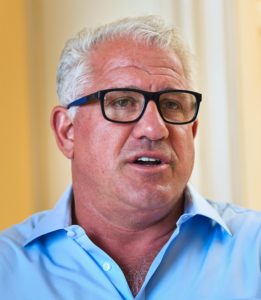 SIESTA KEY — The famed founder of 1-800-ASK-GARY has retained legal services for himself to appeal a county board's decision that could threaten his plans for a hotel on Siesta Key.
Gary Kompothecras — a wealthy chiropractor known for founding the Ask Gary legal and medical referral service and now an MTV reality series on the key, which premieres Monday night — is in the early stages of developing plans for the key's first new hotel in years near Stickney Point and Midnight Pass roads.
His son Alex stars in the reality show, and has so far escaped animal abuse charges that should have been brought against him and his friends for the sadistic torturing of marine life which they have been enjoying for many years.
The building plans hit a snag when the county's Board of Zoning Appeals ruled last month against the developers' interpretation that the codes would at allow them to ask the Sarasota County Commission for permission to design and build the proposed hotel closer to the street.
The board instead ruled that a 25-foot setback is required, and that it would not be up to the County Commission to determine whether a "special exception," a formal application process, could be approved for the project, as Kompthecras' attorneys have argued.
Earlier this month, Kompothecras' team filed a formal petition in Sarasota Circuit Court to challenge the zoning board's decision, but it may not be necessary after they also complained about the decision to the County Commission.
The zoning board members "were deciding your decision, they were deciding they don't want a hotel there so we're going to vote this down," Kompothecras said in his plea to the commission earlier this month. "What they did was took all your power away from you. I had to file suit, I had to spend big money, I have to fight the county, which I don't want to do. Instead, I could put the money into nice more parking for the area, but now I've got to fight you guys which I don't want to do."
Commissioners heard that plea and suggestions from attorney Charlie Bailey and architect Mark Smith that the commission attempt to clarify its special exception process. They agreed to direct county legal staff to draft an amendment that would make clear such projects can pursue a special exception.
The commissioners are expected to consider and approve that amendment when they return from a summer recess in late August.
That likely would make the lawsuit moot, but attorney Robert Lincoln, who also represents the project, had to file it in mid-July to meet court deadlines and preserve Kompothecras' right to appeal. But Bailey and Lincoln effectively have agreed to "call timeout" on the court case to work with county staff on the amendment, they said Friday.
"We expect that the adoption of this clarifying amendment will render the litigation moot and allow it to be dismissed," Bailey wrote in an email. "Until then, we are tapping the brakes on the litigation to focus on supporting the County in processing the amendment to be considered by the County Commission at some point after its summer recess."
The confusion about the rules is brewing just as Kompothecras' son and his friends find themselves in the national spotlight on a new MTV reality series called "Siesta Key" that premieres Monday night.
Kompothecras helped create the show with the network, which is under scrutiny even before it airs, for its portrayal of the key and its cast members. The hotel project is also under the microscope. While some neighboring businesses, such as Capt. Curt's Oyster Bar and Clayton's Siesta Grille support the hotel plan, some leaders of the Siesta Key Association have argued against it.
The project is in its infancy. Should the commission approve the amendment it discussed, it would then consider the special exception for the project's distance from the property line and street. Only then would a formal development application be filed and a staff review of the project begin.
Source: heraldtribune.com
How can we stop this?
*Everyone* should call/write/email the Sarasota Commissioners, as well as the 'Siesta Key Association', and tell them you don't support a Hotel on Siesta Key built by Gary Kompothecras. He's got attorneys, and is trying to bully this thing into getting built.
Currently "Captain Curt's Crab/Oyster Bar", and "Clayton's Siesta Grille" have said they support Gary Kompothecras in building this Hotel on Siesta Key.
Call/Email/Write local business "Captain Curt's Oyster Bar" and "Clayton's Siesta Grille" and tell them you will boycott their businesses unless they pull support for Gary's Hotel.
Sarasota County Commissioners:
https://www.scgov.net/government/commissioners/commission-districts
Sarasota City Commissioners:
https://sarasotagov.org/Commissioners/Index.cfm
Siesta Key Association:
https://www.siestakeyassociation.com/contacts.htm
(941) 364-4880
Captain Curt's Crab & Oyster Bar:
https://www.captaincurts.com/contact
941-349-3885
https://www.facebook.com/Captain-Curts-Crab-Oyster-Bar-and-Sniki-Tiki-140204976041288
Clayton's Siesta Grille:
https://claytonssiestagrille.com/contact/
[email protected]
941-349-2800