Sarasota (WTFF) – The "Unconditional Surrender" statue on the intersection of North Gulfstream Avenue and Bayfront Drive was found embellished with red spray-paint reading "#MeToo" on Tuesday morning.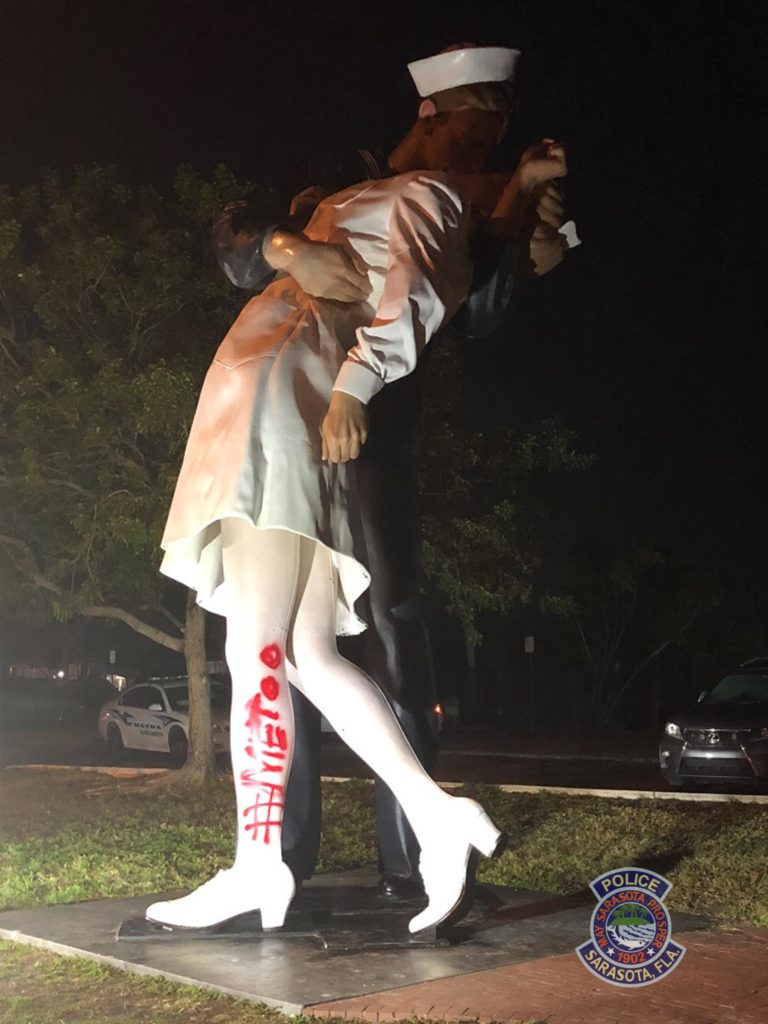 The Sarasota Police Department say there was "no available surveillance video" and there are "no known witnesses" to indicate who could have done this.
The iconic statue is based on a photo taken on August 14, 1945, the day the Japanese surrendered and World War II ended. (Smithsonian Magazine)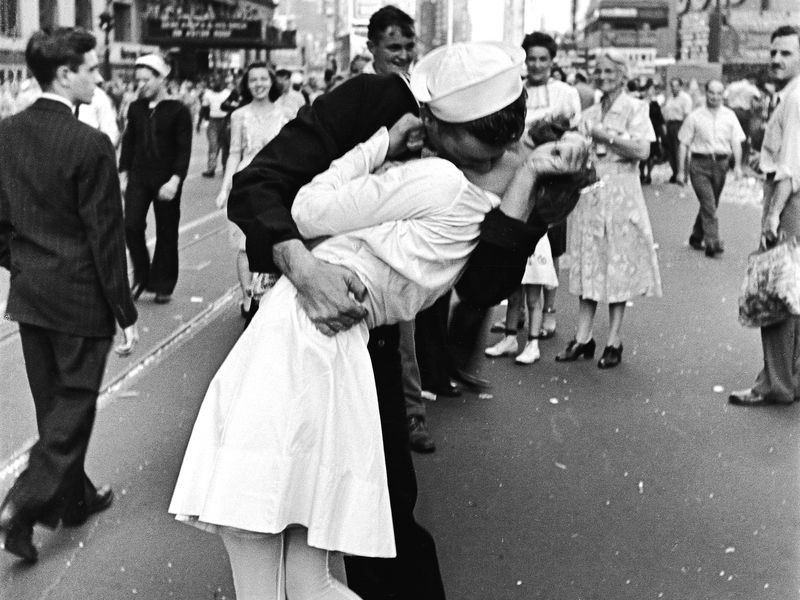 "It wasn't my choice to be kissed," said Greta Zimmer Friedman during a 2005 interview with the Veterans History Project.
The 21-year-old dental assistant had no clue who this sailor was, telling the interviewer that he "just came over and kissed or grabbed."
When asked how it felt, she replied, "I felt he was very strong, he was just holding me tight, and I'm not sure I — about the kiss because, you know, it was just somebody really celebrating. But it wasn't a romantic event. It was just an event of thank God the war is over kind of thing because it was right in front of the sign."
The sailor, George Mendonsa, was engaged to another woman at the time.
"Sexual battery," according to Florida Statutes includes oral "union," otherwise known as kissing.
The United State Department of Justice declares that forced kissing is "simple sexual assault," according to a presentation filed under victim services.
The photo and statue are widely celebrated, but they do in fact feature a woman being sexually assaulted, by legal definition.
The statue was later cleaned up.
Without a suspect, it's impossible to know the motives of the graffiti artist.
It could have been someone trying to discredit the #MeToo movement through an act of vandalism, rather than someone who actually supports the hash tag on the statue's leg. Until hard evidence points to a motive, we cannot assume the intentions of the spray can artist.

Loading ...
Regardless, it's a good reminder to start a conversation about consent.