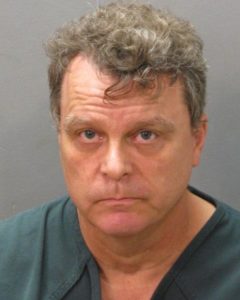 Jacksonville (WTFF) – A man was arrested after allegedly hiding a a tiny camera in a shower loofah.
This is what happens when kids show their grandpas how to use technology. It starts with teaching them how to use Facebook, which all old people are pros at now, and leads to even more advanced things like filming with digital camcorders.
54-year-old Kelly Birkley is one of those old people. He's been charged with video voyeurism after Jacksonville Sheriff's investigated a call on Sunday, February 11, a little after 10:00 pm.
There were two female victims. The second victim was taking a shower when she felt something hard on the loofah she was using… The first told the second to ask Mr. Birkley about the "small black object" inside the shower loofah. He said it was "a camera." She told him he did not have permission to place it there.
Much of the police report was redacted, so we don't exactly who these women were, or what their relationship was to each other or to this man. All we know is that they were not happy to find out that Birkley put a hidden camera in the shower loofah they were using.
When the cops showed up, Mr. Birkley was sitting in his car in the driveway. His Florida Man came out, and before the cops could even ask his name, the first words out of his mouth were:
"I'm an old dirty man."
Right. If only his actions were as honest as his words.
He was arrested and released on bond a $25,003 a few days later.