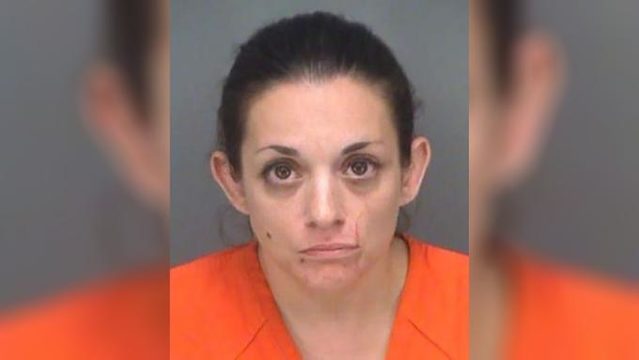 Pinellas County (WTFF) – A Florida woman chased her boyfriend at 90 mph with an unbuckled 3-year-old girl in the passenger seat and slammed on the brakes, launching the kid's head into the windshield.

Justine Olesky is 33 years old.
On Sunday, she was fighting with her boyfriend while the child was right beside her. We aren't sure whose kid this is, but they probably don't know either.
The boyfriend left and Justine followed him. She flung her child into the passenger seat and took off.
The child did not have a seat belt on. According to Pinellas County deputies, he only weighs 35 pounds.
She swerved through residential neighborhoods following her Florida Man boyfriend who was leading the fiasco. He got a head start but Justine was determined to find him.
Somebody watched these two idiots chasing each other. They saw the child in the passenger seat, unbuckled, and called the cops.
They were going "roughly 90 miles per hour" at one point, according to a nosy neighbor who spoke to ABC Action News.
Justine finally found her boyfriend.
She slammed the brakes on.
The child launched into the windshield and hit their head. Long blonde streaks of hair were found by deputies, clinging to the shattered glass. There was a 20 inch diameter impact of damage on the windshield.
Justine leaped out of the car and flung herself towards her boyfriend, propelled by the perfect storm of rage and obsession and desire.
It's not reported what she did after finally catching her object of chase, but if Florida Man/Woman dynamics were at play, they probably decided to "give it another try" and smoke more flakka and make "sexy time." Yes, another Florida Boy might be created soon…
Deputies say that Justine wasn't concerned at all about the child during the arrest. She only blabbered about her boyfriend, even when deputies brought up the child's safety.
She was arrested for child abuse and domestic battery, though she denies that she did anything, and says she doesn't remember the incident.
The child went to the hospital and was fine. "Luckily no serious injury," the Pinellas County Sheriff's Office told ABC Action News said…
Right. Just their head bounced off a windshield at 90 mph.
Florida Kids are resilient.