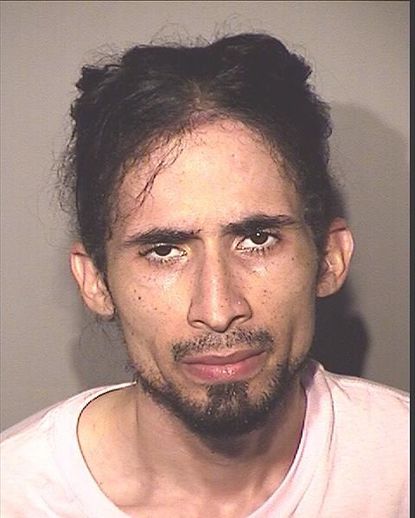 Kissimmee (WTFF) – A Florida man who shot at a van while driving on Florida's Turnpike told authorities that he was trying to get the van to slow down after the driver rear-ended him.
27-year-old Luis Christopher Peynado Fatiol is now facing charges for attempted felony murder, shooting into a vehicle, directly discharging a firearm from a vehicle and discharging a firearm from a vehicle, according to the Orlando Sentinel.
This all happened about 5:20 p.m. near mile marker 249 in Kissimmee, according to the Florida Highway Patrol.
Fatiol told troopers that he was driving north on the Turnpike in his Honda Accord, when a white van sped up behind him, blocking him from changing lanes.
When Fatiol was finally able to change lanes, he said he thought the van rear-ended him, so he pulled over and stepped out of his car.
The van hit the left side driver door, and almost struck Fatiol.
That's when he got back into his car and chased the van, trying to get the driver to slow down.
The driver wouldn't stop, so Fatiol pulled out a 9mm from the glove box, inserted a magazine and popped off shots "in an attempt to stop the van."
His girlfriend told troopers that he "doesn't think clearly" when he gets angry, and that she asked him several times to put the gun down.
The van driver was on the phone with deputies when Fatiol began shooting, according to the affidavit.
He said Fatiol threw a coffee at him before shooting, as stated in the FHP report.
The Florida man was pulled over near mile marker 251 by Osceola deputies where he was arrested.
Fatiol remains at the Osceola County Jail.