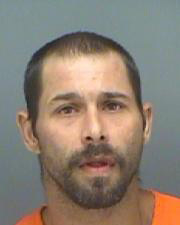 St. Petersburg (WTFF) – A Florida man is behind bars after he allegedly brought his 11-year-old son along while burglarizing a home.
32-year-old Joseph McIntosh reportedly "forced" his child to accompany him during the heist, according to the arrest affidavit collected by The Smoking Gun.
McIntosh and a 23-year-old accomplice were both arrested Saturday afternoon on the front porch of the house they just burglarized.
The 58-year-old who lives there wasn't home at the time.
When police showed up, McIntosh was "found on the front porch of the residence with items in his hands and in his backpack that came from the residence."
Predictably, he also had meth on him.
He's facing charges for burglary, child abuse and possession of methamphetamine, with a bond of $15,300.
At the time of arrest, he was free on a $3300 bond for an April 30 bust that included meth, Xanax and drug paraphernalia.
He was only out on bail for three days before this arrest.