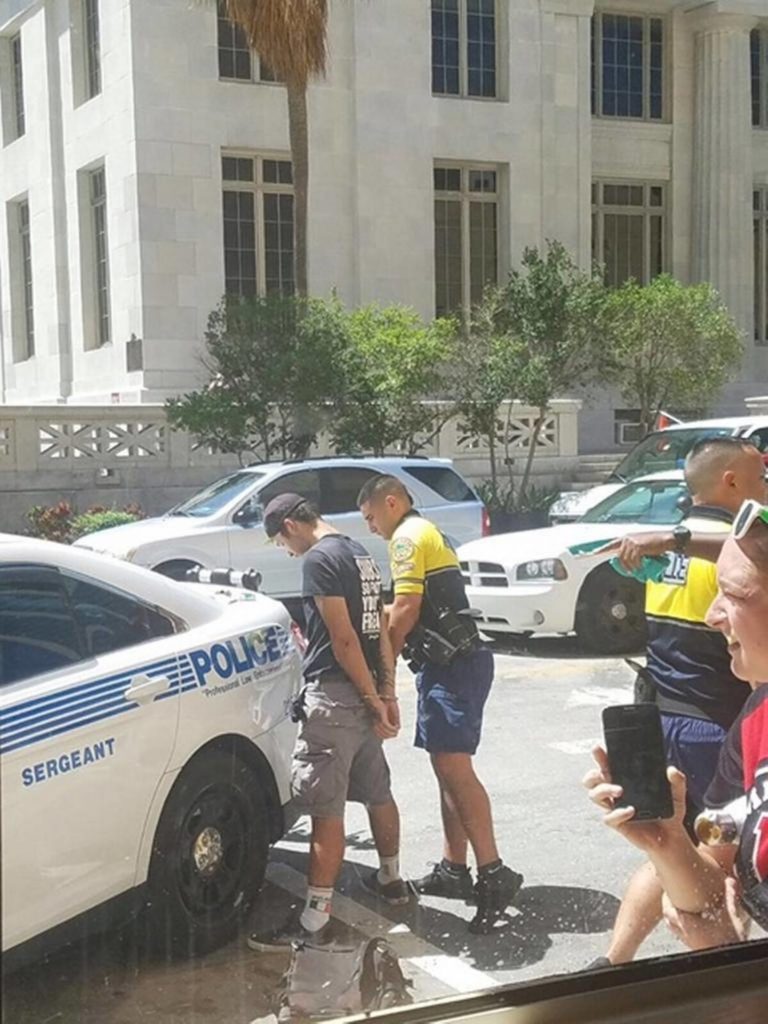 A Jimmy John's delivery cyclist was hit in a downtown crosswalk Thursday afternoon by a Miami police officer driving an unmarked car.
But it was the sandwich deliveryman who went to jail. For 12 hours.
Mason Morales was arrested for criminal mischief after he threw his bike against the car in anger, then handcuffed in the middle of the street and placed in a cell at the Turner Guilford Knight Correction Center until his mother bailed him out at 3 a.m. Friday.
"The whole thing was pretty awful and stupid," Morales said. "I don't think I should have been brought in for that.
"And they gave me a ticket, too, for failure to yield right of way."
Morales, 19, was riding back to the Jimmy John's shop at 45 W. Flagler St. near the county courthouse when he was struck by a car rounding the corner from Flagler onto Northwest Miami Court. He landed on the pavement but was not injured.
"I was in plain view but they kept driving and hit my back wheel," he said. "It was not a major impact. I think she was on her phone and didn't see me."
The driver was Officer Kenia Fallat, a spokesperson for the Miami police department.
Morales, who gets abused daily by Miami drivers, picked up his single-speed Leader bike and tossed it against the passenger side door, leaving a dent. Then Fallat got out of the car. Morales saw her uniform and realized he was in trouble.
"I saw she was a cop so I knew I had f—– -up," he said. "This was my second run-in with this police lady. One time before in the same area she didn't hit me but it was a near miss. She was on her phone."
Morales said he was ordered to put his hands on the hood of the car as Fallat called backup.
"I kept my cool even though 10 cops showed up. I'm not sure why this little incident required that number," he said. "They searched me and put me in cuffs."
Morales was charged with criminal mischief, with damage to the car door estimated at $500, according to the police report. He was detained at Miami police headquarters for three hours, then transferred to TGK where he said "there were a bunch of people in orange jumpsuits" until he was released in the wee hours.
"I deal with this every day — drivers who don't pay attention to where they're going," said Morales, who lives in Miami and works full-time at Jimmy John's. "I've been hit before. I broke my nose once."
Fallat and Miami police declined to comment on the accident.
Fallat was also involved in a June 22 incident when she was driving an unmarked car down Southwest Seventh Street and a man pulled up next to her flashing his silver security guard badge, identified himself as a police officer and told her to pull over.
Milton Morales-Perez, who was arrested for impersonating a police officer, said he tried to stop Fallat because "it is very dangerous to be on the phone while driving."
Source: miamiherald.com
Miami traffic is intense. The system is rigged. People are crazy.
Despite that, it's still fun.
Stay safe out there.