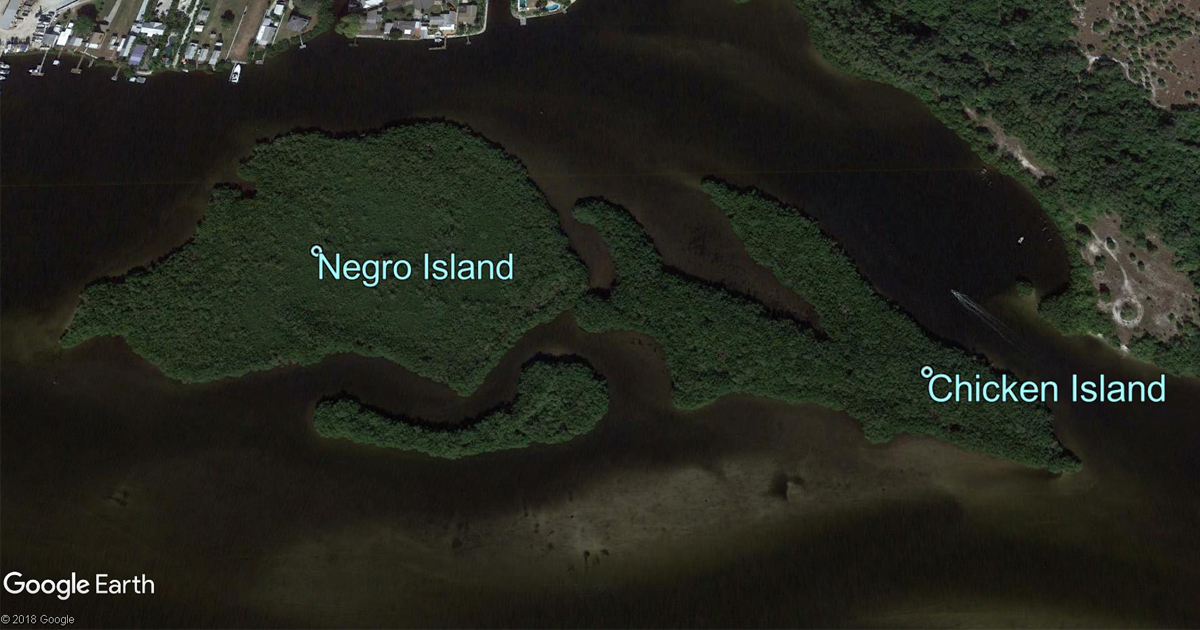 There's a pair of islands in the Tampa Bay named "Negro Island" and "Chicken Island," and they're right next to each other.
The islands are zoned in Ruskin, an unincorporated census-designated place in Hillsborough County that was "founded" on August 7, 1908 and named by the English writer John Ruskin (Wikipedia).
Googling yields very little information on the history of the two islands, or how they got their names.
It's possible that Negro island was home to a "Maroon Community," where revolted slaves and the Black Seminoles would gather to form towns. In the United States, there has been a concerted effort to suppress information on slave revolts and maroon activity, unlike other Caribbean nations like Jamaica and Haiti where slave revolts were well documented. As a result, much of the history has been lost.
The word maroon comes from the spanish word cimarrón, meaning "wild, unruly" or "runaway slave," according to Lyle Campbell's "American Indian Languages: The Historical Linguistics of Native America."
The Geographic Names Information System (GNIS) has no real history on Negro Island, other than the fact that surveyors found the name on some old topographical maps. Same with Chicken Island.
There's also a Negro Island in Citrus County, but it doesn't neighbor any deliciously named islands like the Hillsborough pair. The book "African American Sites in Florida" by Kevin M. McCarthy simply says that it was "popular with African Americans." The book states that "when local officials realized how offensive the name might be to African Americans, they changed it to Horseshoe Island." The USGS rebukes that last statement, saying that "a proposal to change the island's name to Horseshoe Island was rejected in October 2011."
If anyone has historical information on the islands, especially on how they got their names, please leave a comment below.