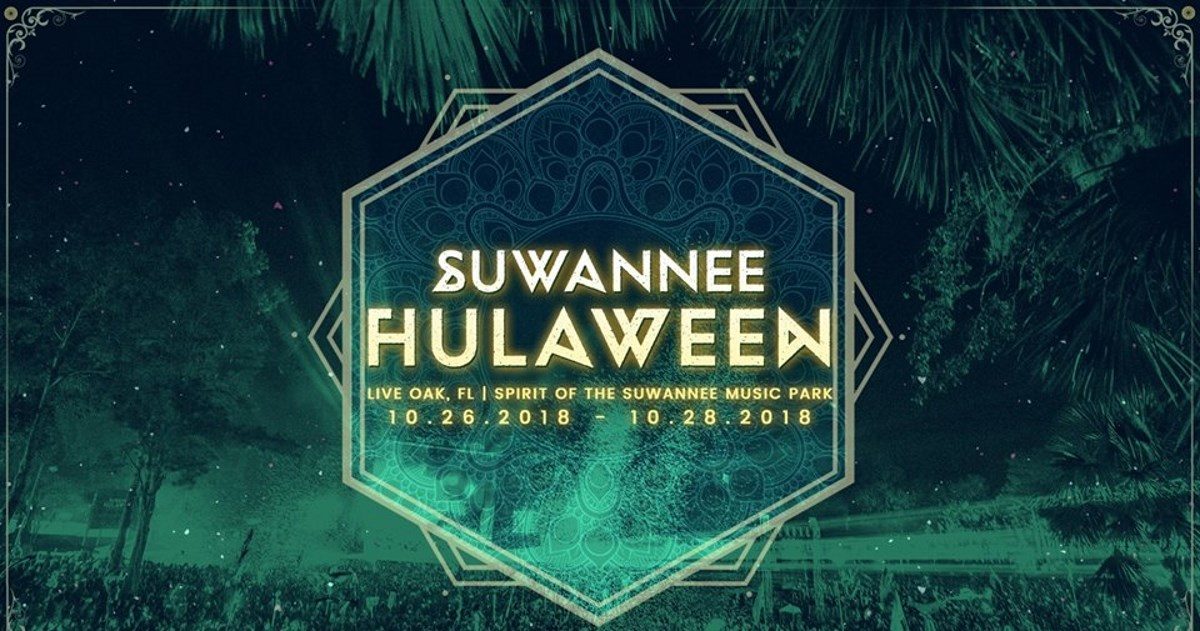 These series of arrests were made at Spirit of the Suwanee Music Park during the 2018 Hulaween music festival. The narratives are taken directly from arrest affidavits written by the Suwannee County Sheriff's Office, with quotations around exact phrases.
The Live Oak Police Department arrested four people over this weekend, and FHP arrested three, but we don't have access to those records yet to say if they were made at Hulaween or not.
We're only using the first names of the defendants.
Florida Man Busted for Smoking a Bong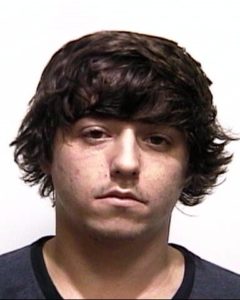 On Friday around 8:30 pm, a plain clothes sheriff was surveying campsites from the public roadway.
Under an open illuminated canopy there was a man smoking a bong.
The officer presented his badge and saw a few joints and some THC wax on the table. He was holding a screw top container with a few grams of weed.
A black backpack rested between his feet.
Two zipper compartments were open, and the officer could see weed, pills and cash.
Joseph was detained. He's 22 and lives in Neptune Beach, Florida. Born in New York.
Inside the backpack officers reportedly found 4 Xanax pills, 12 Adderal pills, 30 grams of cannabis, 1.5 grams of cocaine, 310 grams of BHO/THC (packaged for sale) and $4,230 in cash.
Joseph said the backpack belonged to a friend before being taken to jail.
He's been charged with three felonies (Possession of Controlled Substance, Possession of Controlled Substance – Over 20 Grams of Marijuana, Possession of Cocaine) and two misdemeanors (Possession of Marijuana – Less than 20 Grams, Possession of Drug Paraphernalia).
Florida Man and Florida Woman Give Dabs to Deputy
In the Spirit Lake area, on Friday night around 9:30, an undercover operation was taking place.
A deputy wearing plain clothes asked 22-year-old Minnesota-born Floridian Austin for some "marijuana."
Austin said he had "dabs."
He turned to 20-year-old Vanessa, a Florida Native born in Fort Myers, and retrieved "a vial of THC oil" from her.
Then he handed it to the deputy.
Both were arrested.
Austin also reportedly had two MDMA tablets in his pocket. He's facing two felony counts of Possession of Controlled Substance.
Vanessa was charged with one felony count of Possession of Controlled Substance.
Floridians Pass a Joint, Get Arrested
Around 11 pm on Friday, an officer spotted someone passing a joint to another person in the music park.
The two men were arrested: Jason (left mugshot) and Steven (right mugshot).
Jason, age 44, born in Detroit and now living in Sarasota, had some joints, THC edibles and meth on him, reportedly. Charges: Possession of Controlled Substance W/O Prescription (Felony), Possession of Controlled Substance (Felony), Possession of Marijuana (Misdemeanor).
43-year-old Steven also lives in Sarasota. He had three joints and some THC edibles on him, reportedly. Charges: Possession of Controlled Substance (Felony), Possession of Marijuana (Misdemeanor).
Florida Native Arrested for Smoking Weed, Girlfriend Arrested after Asking What Happened
One sheriff was "tasked with walking the roadways" looking for illegal activity.
It was Friday night around 10:12 when he saw 22-year-old Florida Native Sergio allegedly "smoking a cannabis cigarette in plain view of the public."
He admitted to having some "molly," which the arrest affidavit calls "methamphetamine."
Technically they're not the same thing, though MDMA (3,4-methylenedioxymethamphetamine) does contain methamphetamine. The smokable form of meth is N-Methylamphetamine, and has much different effects (though both give you a surge of energy). Florida Statutes describe them both as Schedule 1 drugs.
After a search, he was arrested and charged with Possession of Controlled Substance (Felony), and Possession of Marijuana (Misdemeanor).
Moments after the arrest began, his girlfriend Leah "walked up to the scene."
She simply "wanted to know what was happening with her boyfriend," as she watched him being detained against his will.
They "advised" her of the situation and "asked if she had any controlled substances on her person."
She spoke truthfully, and said she had LSD on her. The officers relinquished it.
She was arrested too.
The officers were having computer trouble, so a handwritten affidavit was completed.
Leah faces one felony count of Possession of Controlled Substance.
Woman 'Abducted' by Officer, Good Samaritan Tries to Help, Friends Report Abduction to Cops
On Friday after 11:00 pm, three women from Michigan were spotted smoking a joint.
A lieutenant in plain clothes walked up and showed his badge.
He stole the cannabis cigarette from them and "had all three stand and step away from the crowd."
"They thought it was a joke," according to the report.
All three tried to run away from what they believed was just a random person trying to accost them.
Two escaped (and later asked a uniformed officer to help their kidnapped friend), but the lieutenant grabbed the left arm of 22-year-old Madeline and dragged her away.
She struggled to get away from her assailant, and "began throwing herself to the ground, kicking, and yelling that she was being abducted."
25-year-old U.K.-born Orlando resident Ryan witnessed the abduction and approached the man who was dragging the terrified woman away.
The lieutenant flashed his badge and identified himself verbally, according to the report.
Ryan still tried to rescue the woman by pulling her away. The two had never met before, he was just being a Good Samaritan to a stranger who he believed was in danger.
The lieutenant grabbed Ryan by the back of the neck and "executed a takedown maneuver, placing [his] face down on the ground."
Ryan got up and tried to free the woman again. He was knocked down a second time, and stood back up again. Then he was handcuffed.
Both defendants were transported to the command post for booking.
Madeline's two terrified friends eventually found a uniformed deputy and reported that "their friend was abducted by someone claiming to be a police officer."
They "advised that they did not believe [he] was a police officer, even though they saw his badge."
There no way for the typical person to tell a fake badge from a real badge just by looking at it. Most (if not all) are badges produced by private vendors, and it's very easy to get a fake one that looks real.
"Any legitimate police officer will have an official ID card to go along with the badge," says Tim Dees, retired cop and criminal justice professor.
Georgia Native Shoves Man for Refusing to Give Him a Cigarette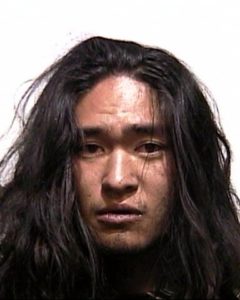 It was about 4:30 in the morning on Saturday.
Police radio blared of a "battery complaint" in the horse stables area.
26-year-old Justin, born and raised in Lawrenceville, Georgia, was brought down to the ground by a few officers.
The victim stated that at a checkpoint, Justin "walked up to him and demanded a cigarette from him."
"No," he replied.
That's when Justin reportedly started yelling at him and then shoved him onto the ground.
Justin ran away after that.
After being arrested, he told the cops that he had been eating Ketamine cookies and LSD.
A small ziplock bag with white powder in his right pocket earned him one charge of Possession of Controlled Substance, a felony. He was charged with a Simple Battery misdemeanor for the shove.
Massachusetts Man Busted after Counting Pills in Car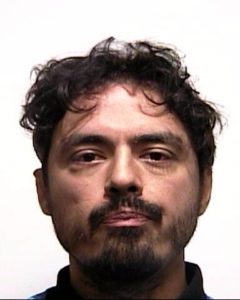 From the roadway, on Saturday around 9:00 pm, and officer spotted a car that was "parallel and on the edge of the roadway with the passenger door open, the dome light on and the defendant bent over in the passenger side."
31-year-old Paul, visiting from Massachusetts, was reportedly "counting pills from a clear ziploc type bag."
The officer pulled his badge out.
Paul was "very cooperative" and said the pills were believed to be "Molly and LSD," four pills of MDMA (.82 grams) and two small hits of LSD (less than 1 gram).
Nothing else was found during a search.
Paul was taken to jail and now faces two felony counts of Possession of Controlled Substance.
Camper Arrested for Smoking Weed in the '80 Acre' Section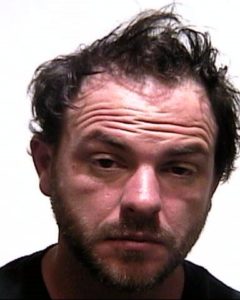 On Saturday night around 10:20, an undercover agent of the Suwannee County Drug Task Force was on the dirt roadway near the "80 Acre" section.
"The odor of burning cannabis" led the officer to a 35-year-old man named Keefe, who was reportedly smoking from a glass pipe while holding a "small clear container" of THC.
Keefe was born in California and now lives in South Carolina.
According to the arrest report, he had some "paper LSD blotter tablets" in his right pocket, and a joint in the left.
He was arrested and charged with Possession of Controlled Substance (Felony) and Possession of Marijuana (Misdemeanor).
South Carolina Man Gets Lost in Bird Sanctuary, Asks for Ride from Undercover Cops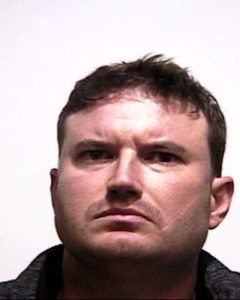 Sunday morning rolled around; the last day of Hulaween. By the late afternoon, most of the campers would be on their way home. At only 1:19 in the morning though, the night was still young.
One adventurer named Christopher, from South Carolina, was walking around Bird Sanctuary, feeling a little lost.
A golf cart puttered by and Christopher asked for a ride, saying that he "could not find his campsite."
He didn't know that the two men and one woman inside the golf cart were sheriffs working undercover.
"During the ride the defendant advised he had MDMA at his campsite to share with officers."
The amiable festival-goer "invited officers into his campsite," and offered them cocaine.
That's when the undercover revealed a menacing Sheriff's star hanging around his neck.
Christopher thought quickly and "immediately attempted to conceal the bag inside his pants."
"Stop resisting!" commanded the sheriffs as they grabbed him.
According to the report, he "continued to violently resist" by kicking, pinching and "trying to bite" the arresting officer.
Eventually he was restrained. During a search, a "bag fell from his waistline." He kicked it, emptying the contents, though cocaine residue remained. One MDMA pill was found in his pants, as well as an "unknown rock substance."
Christopher refused to give his name or address, and he had no ID on him. Two deputies returned to the campite and tried to identify him, but a female at the campsite said she just met him and didn't know his name.
He was booked as John Doe and charged with four felonies: Possession of Cocaine, Resisting Officer/Arrest, Simple Battery on Law Enforcement and Possession of Controlled Substance.
Drunk Florida Man Assaults Wife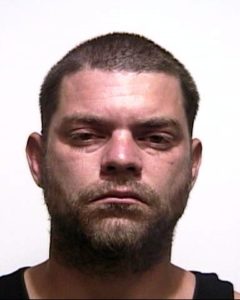 Around 7:15 on Sunday night, the last day of Hulaween, event staff alerted an officer of a disturbance between a married couple in the main intersection of SOSMP (Spirit of Suwannee Music Park).
37-year-old Shane from Alachua, Florida "appeared to be angry and was yelling at security" when the officer arrived.
"Sit down," commanded the officer several times. Shane finally complied, "but continued to yell and scream claiming he did not touch his wife."
Two staff members with SOSMP stated that Shane pushed his wife as she tried to get away during an argument. When they confronted Shane, he reportedly said:
"It's my wife I can do what I want with my wife!"
His wife told the officer that "Shane did place his hands around her by her shoulders but did not do so to push or harm her."
She said that "Shane had been consuming alcoholic beverages all day."
He was arrested and charged with Simple Battery – Domestic Violence (Misdemeanor).
Please support our site
If you found this article useful, please consider making a small donation or at least sharing us on social media.
It costs money and time to collect court documents and write up these reports. We can barely afford to pay our website hosting fees at the moment, so please help. Thanks!