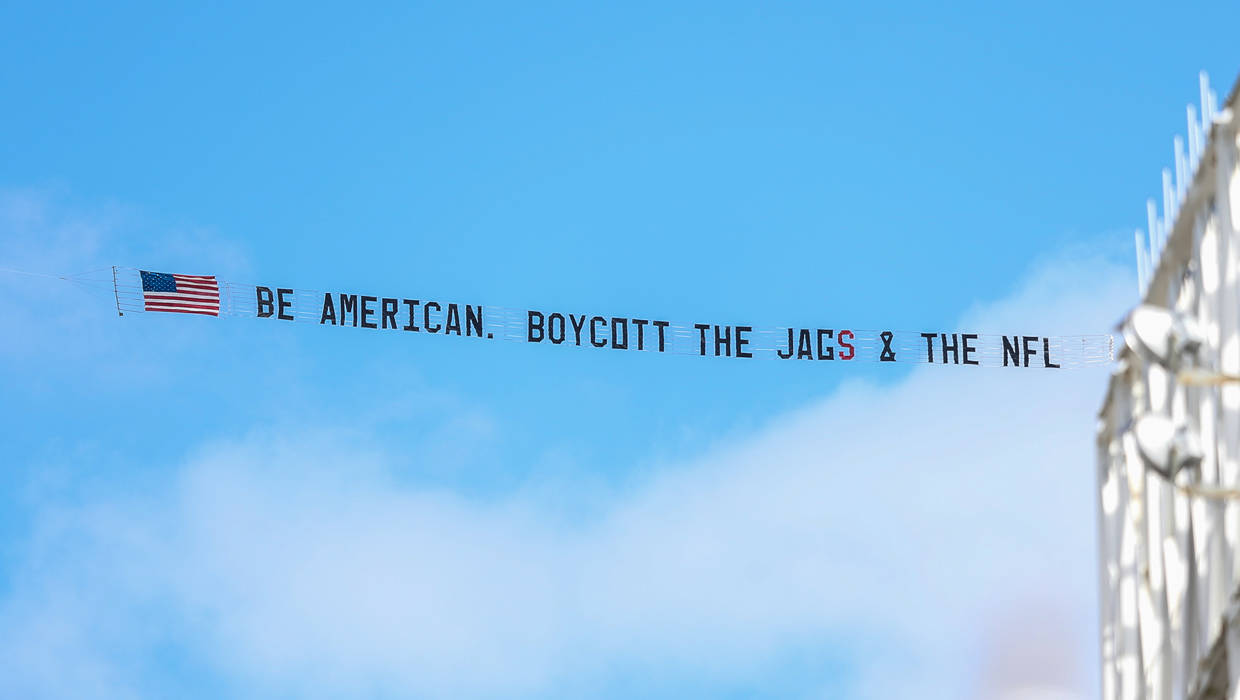 A Green Cove Springs man took a stand against freedom of speech by exercising his 1st Amendment rights on Sunday.

"Be American. Boycott the Jags and the NFL," read a large banner, dragged behind an airplane over EverBank Field before the Jacksonville Jaguars played against the Los Angeles Rams.
This banner was commissioned by Terry Smiley, who told actionnewsjax.com that "I am asking people to boycott the football games. I don't watch it on TV."
He used to be a Jags fan until some of the players decided to bring up the ugly fact that racism still plagues America.
He fails to realize that egalitarianism is one of the most cherished American values.
By peacefully fighting to improve our country, these football players are being way more American than the average ignorant slobs who are ridiculing their actions. Ignorant slobs like this guy, wearing an "I stand for the National Anthem" shirt while sitting on the American Flag: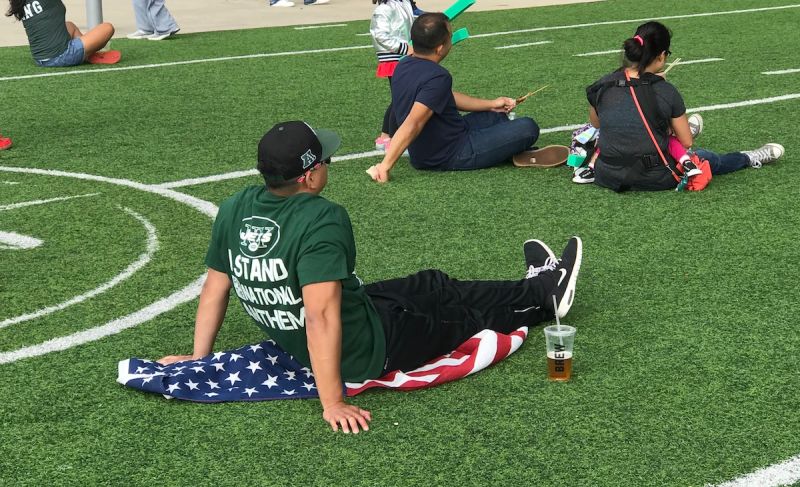 Some people don't like to be reminded of the truth. They simply want to watch football and pretend that racism doesn't affect this country. They obediently drunken themselves while consuming billion dollar ads between plays. This is the way things have worked for a long time, but for the same reasons that we change our underwear, things in our habitual programming should change from time to time if they get too shitty.
The people who are upset about football players kneeling should really ask themselves why they are upset. To the civilized world, it looks like you're just mad that black people are trying to live as freely as white people. That's where your hatred comes from, a fear that one day we will all be equal. That's pretty fucked up, and very un-American.
In Manatee County, judges sentence whites convicted of felony drug possession to an average of five months behind bars. They give blacks with identical charges and records more than a year. That's just one example of many. You can read more on the Herald Tribune.
Racism still affects America. Pull your head out of your ass and wake up. We all want the same thing. We all want a safe place to grow up, raise a family, and live in peace. We want judges to sentence people for their crime, not their color. We want peace. We want justice. We want equality.
-The Angry Yankee