"Shill accounts" are common on social media. They're created and moderated by modern influence campaign employees, "shills," who spread misinformation and strong view points in order to manipulate the actions of humans. We're social creatures. When we see some "normal, average, real" person that kind of looks, thinks, and acts like us, we tend to trust them. That's where marketing companies step in, to exploit that.
Sometimes they're easy to spot, these fake profiles.
Take for instance, Twitter user @FredFromFlorida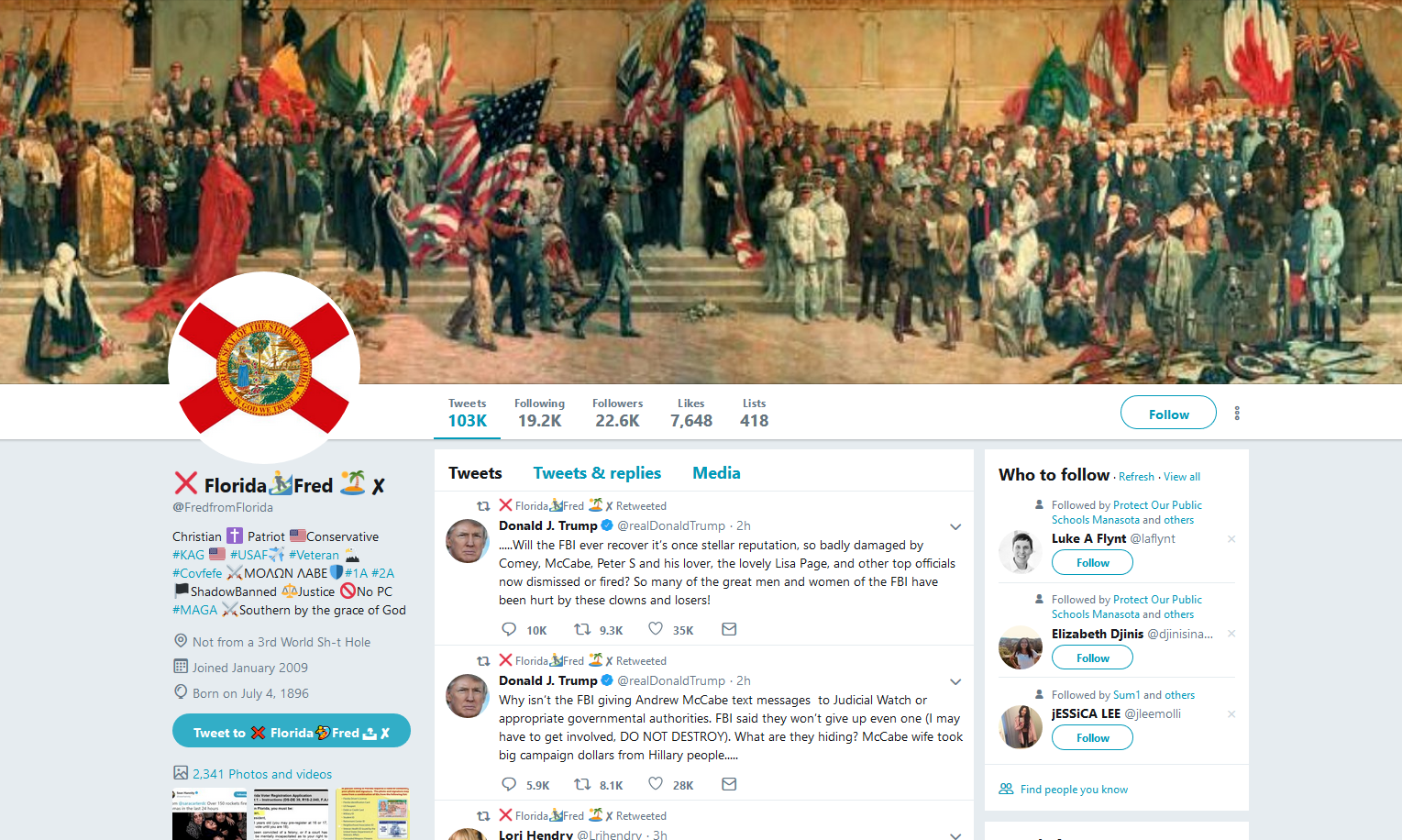 Several things stand out in this profile.
REPOSTS
Right away we see many reposts or shares from specific groups of pages that match a similar ideology or product.
Shills rarely have original thoughts, though the more more expensive ones will write better content (original posts, better grammar, more convincing acting).
Reposts are easy to do because the process can be automated and run 24/7 without a human being on the clock. These are called "bots."
EXTENSIVE USE OF MARKETING KEYWORDS
"Christian, Patriot, Conservative," those are all marketing terms. Those are the demographics they're targeting. It's also good for Search Engine Optimization. Real Christians, Patriots, and Conservatives generally don't advertise their beliefs in buzz words, but instead through their actions. "They profess to know God, but they deny him by their works. They are detestable, disobedient, unfit for any good work." That's how Titus 1:16 warns us of fake Christians and conniving charlatans. Be very cautious of anyone that has to repeatedly claim what they are. Actions and consistent language speak louder than words.
FREQUENT USE OF EMOTICONS AND GRAPHICS
Instead of capturing their audience with words that contain logical, rational ideas, they inundate the senses with icons that appeal instantly to emotion. Angry faces are used to enrage. Beach images are used to placate the reader into believing that "Fred" is really from Florida.
IRONIC DISCREPANCIES
"Fred" claims to be a Christian, but also has no problem calling other countries sh*t holes. That's an obvious conflict of faith and logic.
CONFIDENTLY LATCHES ONTO A WIDE RANGE OF HOT BUTTON ISSUES
Real people are rarely pissed off at everything, they pick and choose. Shill accounts want to attract lots of people, so they purposely list as many grievances as possible. The statements are made confidently, hoping to inspire normal people who really only half care about these made-up issues to go full swing into anger and paranoia. These topics are almost always identical to whatever is being talked about on Mainstream Media.
INFLAMES NON-ISSUES

Shills like to rile up mistrust and aggression by talking about things like "shadow bans," which Twitter doesn't even do. It's a fake issue. It's made up. Yet it tugs at the heart of many uninformed people because it sounds like censorship (which everyone hate, and should hate).
INCREASES DIVISION
"Sowing discord in the U.S. by inflaming passions on a range of divisive issues" was one of the Kremlin objectives during the 2016 elections, according to Ranking Member Adam Schiff, regarding the federal indictments against the Russian troll factory known as The Internet Research Agency. "The Russians did so by weaving together fake accounts, pages, and communities to push politicized content and videos, and to mobilize real Americans to sign online petitions and join rallies and protests."
Now, remember, not all shills are "Russians." We can't just keep blaming Russia for everything. Shills are from all countries, though generally companies will hire the cheapest workers, who are generally outside of the United States. They are hired by many people and corporations, from Publix to politicians, and everything in between. It is essentially "marketing" in our current epoch.

In our day to day to life in Florida, and everywhere else, we don't yell at each other about trivial political things. We just try to be decent to each other, and our differences aren't that pronounced. Shills will try to stir things up and make people mad. Many shill accounts were promoting Black Lives Matter and LGBTQ content, in order to paint the illusion that those groups were fiercely fighting against the "other side." Other shills promoted southern pride. This gave the illusion of conflict.
In reality, we all pretty much get along… in Florida we've got white, southern, self-proclaimed rednecks who go to barbecues in predominately black neighborhoods. Nobody here really cares if you're gay or straight. Nobody gets "butthurt" by stupid comments. We just do us, and we treat each other nicely. At least that's my experience. Of course, you have the occasional nasty, rude person because we're human, and that's inevitable.
NON-STOP POLITICAL CONTENT
Shill accounts share extreme and polarizing political posts from accounts that look just as shady as theirs.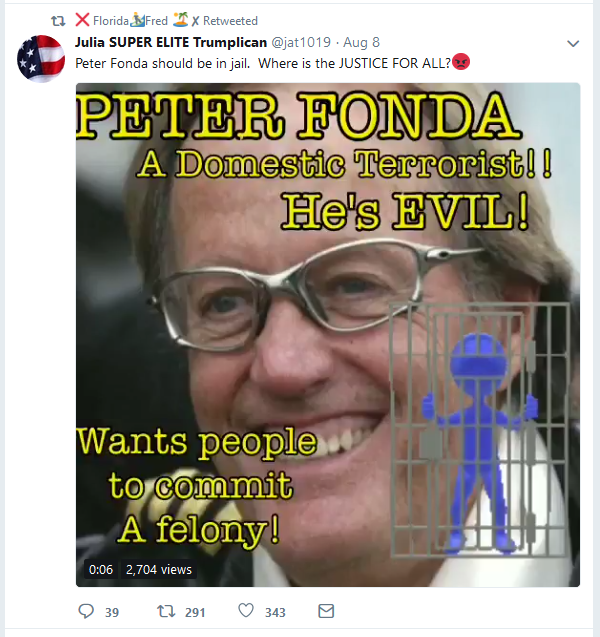 LANGUAGE AND GRAMMAR SOUND TOO BUSINESS-LIKE FOR A PERSONAL PAGE
The sentences may sound awkward, contain bad grammar, or sound too formal.
NO REAL PHOTOS
Real people post pictures of themselves and their surroundings, except for those who wish to remain anonymous.
Shill accounts sometimes purchase stock images and get caught. Only shills who work for agencies with lots of money and resources can afford to buy family photos that are convincing.
CHANGES THE SUBJECT, TROLLS PEOPLE WHO SHOW CONCERN
These accounts do everything in their power to weaken our resolve and undermine our concerns. They will post distracting logical fallacies which are then "liked" by other shill accounts and the fools they conned.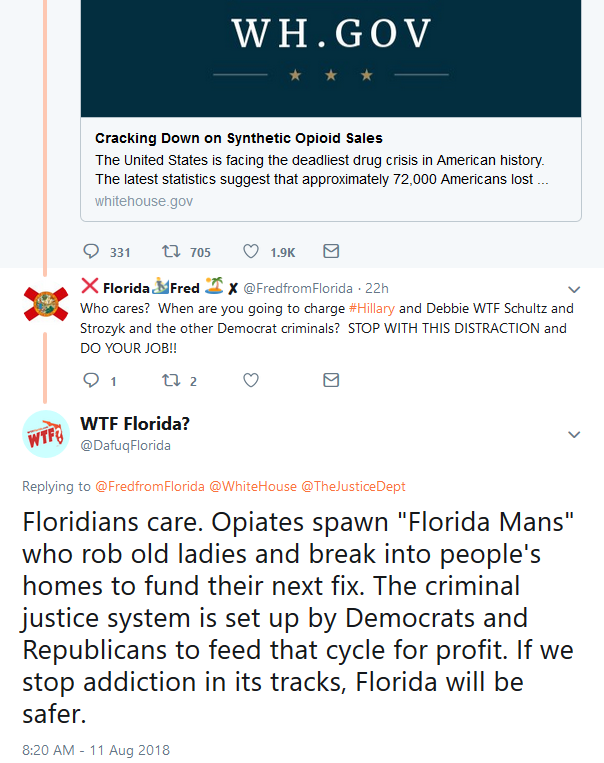 WON'T REPLY TO SHILL ACCUSATIONS
They usually don't get paid enough to care. They'll just hide your question and ignore you.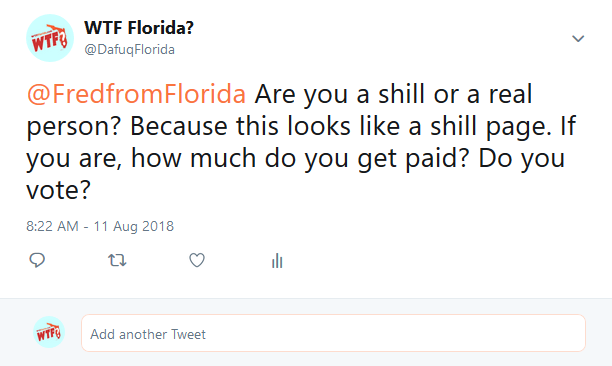 Instead of answering honestly, they just blocked our account.

Fake Accounts
About 10% of all the accounts on Facebook are duplicate accounts, reports Business Insider.
Facebook had about 2.07 billion users in 2017, meaning that 207 million of those accounts were not real people, or rather, shills. Granted, a good chunk of those were probably Nigerians and Indians scamming old, lonely people out of their money with stuff like, "hey bebe, can you kindly do the needful and send money for plane ticket please Western Union. I love you long time."
As many as 48 million Twitter accounts are fake, according to research from the University of Southern California and Indiana University.
These accounts can be purchased in bulk from websites like accsmarket.com. Older, more established accounts with more pictures and posts are worth more money. This is a big business with many moving parts.
What can we do about it?
Be slow to react. Research. Fact check. Post facts. Be rational. Be calm. Be nice to each other. Don't feed the trolls (ignore them, ban them).