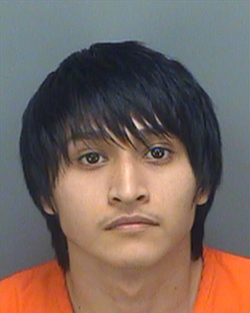 Clearwater (WTFF) – A Florida man was put in jail for masturbating in public.
Around 2:30 in the morning at Thompson's Dry Cleaners, a 24-hour laundromat in the Trampa Bay, someone called the cops to report a fapping Florida man.
The responding officer reportedly found 20-year-old Carlos Salvador sitting in a seat with his erect penis out, masturbating.
Carlos is a Florida Native, born right here in the Funshine State.
He was "naked from the waist down" and "watching pornography on his phone", according to the arrest affidavit.
After he was read his Miranda Rights, he told the cop that he masturbated in public in the past, and that it "helps with his anxiety."
Carlos was charged with 1 count of Exposure of Sexual Organs and released on his own recognizance that same afternoon.