Clearwater Beach (WTFF) – A resident in Clearwater Beach received an eviction notice from Island Walk Condominiums after they found out that his "emotional support squirrel" has been living with him.

According to WFLA, the two are inseparable.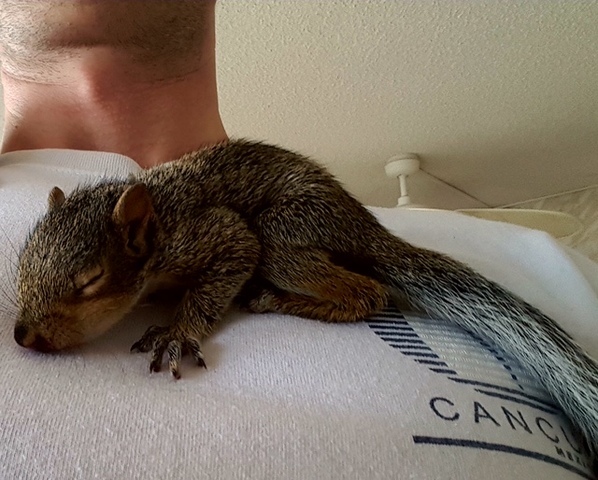 Ryan Boylan rescued Brutis last year after Hurricane Matthew.
"Ever since then I mean, oh my god, I can't imagine not being around her," said Boylan.
But there's trouble in paradise.
Someone snitched on him after a dog chased poor Brutis up a tree. She escaped, but property management discovered her because of the fiasco and filed a complaint to the condo owner through the condo association.
Ryan never told the condo owners about Brutis, and since "exotic animals" are outlawed there, he got an ultimatum from them:
Get rid of the squirrel or get evicted.
A note from Boylan's doctor states he is suffering from post-traumatic stress disorder after a car accident. The squirrel acts as his fuzzy therapy in an otherwise cruel world.
He even has a super-official-looking "Emotional Support Animal" certification from registermyserviceanimal.com to prove his case.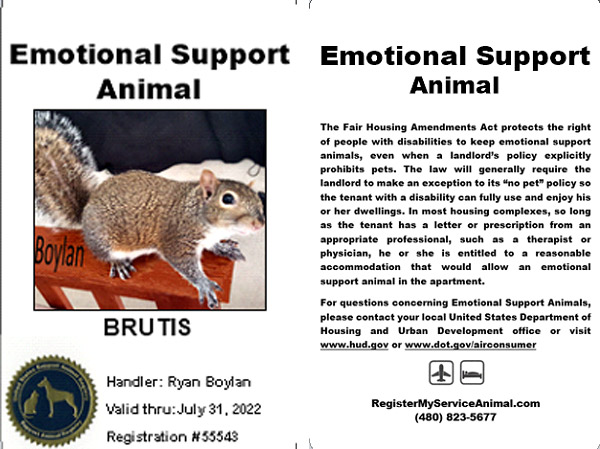 News Channel 8 spoke to former board member, Sherry Arfa, who said "a squirrel is a wild animal" and it's a liability.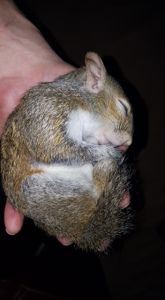 This friendly squirrel is no more wild than Florida Man, yet she faces discrimination because of her fuzzy tail, jerky motions, and ever-curious demeanor.
The case is on-going, wfla.com reports.