Backpage.com has been seized by the FBI as of April 6, 2018, and their website is shut down.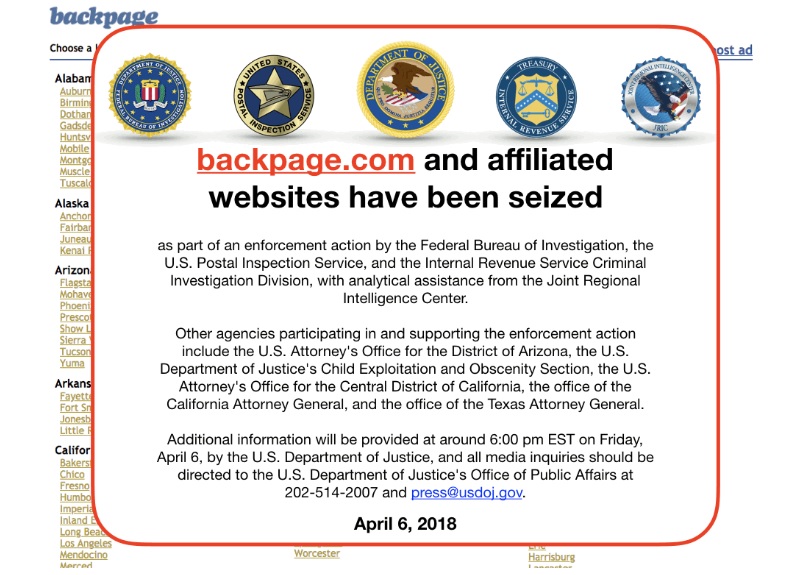 The government is attacking our rights! More bans! Well yeah, it's been that way, but this case has some merit.
The indictment states that they were allowing girls under 18 to be featured in prostitution ads. Putting money before humanity, the proprietors of Backpage accrued over $500 million in "prostitution-related revenue."
Victims of human trafficking were funneled through the site. One case specifies that a victim was sexually violated with a gun by her captor, and that she was forced into prostitution.

Underage girls would appear in ads, and the staff was told to simply approve them.
A case in Texas ended with a young victim killed by a customer. Backpage continued running ads for the dead girl, and did not comply when the father requested that the ads be removed.

At any rate, it sounds like any other corporate monster who lost its soul along the way. The allegations are serious. If true, it seems that greed got in the way of their decency.
Many pimps will be affected, and their sex worker employees.
Sex workers like "Extra horny sexy newbie," whose pimp was tried in the US District Court for the Middle District of Florida.

Sources: Indictment, NPR
Legitimate sex workers and customers will be affected by this site outage as well.
There are benefits to having an easy-access online board for managing such consensual acts. With the new FOSTA law though, better platforms must come along that prohibit and report child abuse and human trafficking. We also need more state and federal funding to help the victims and track down the cretins who are harming others. We need to take a serious look at our prostitution laws, which are punitive and perpetuate arrest after arrest for profit. These are things we should be talking to our representatives about.
Other sites like Craigslist are already affected. There could be more.
How will this affect you?
Comment below and remain Anonymous.