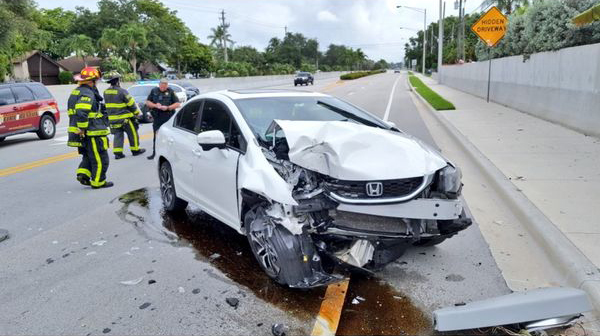 COOPER CITY, FL — A Florida woman's Tuesday morning commute took an unusual turn when she happened to spot a hitchhiking spider perched atop a web above her head. When that spider decided to scale down its silk and land on her leg, things took a dangerous turn.
"She lost control," Mike Jachles, spokesman for Broward County's department of fire rescue and emergency services told Patch. When she did, her Honda Civic struck a "solid concrete and rebar light pole" on Nob Hill Road.
#crash @BrowardSheriff #FireRescue @CooperCityGOV Nob Hill Rd/SW57 St. Driver told me a🕷was in the car and caused crash. Not #itsybitsy pic.twitter.com/nZ1F8YjuVW

— PIO Mike Jachles (@BSO_Mike) June 13, 2017
Jachles happened to be on his way to a firefighter's retirement party in Cooper City just after the crash happened. When he came across the scene around 9 a.m. June 13, he found the woman already being assisted by a doctor who also spotted the arachnid-prompted wreckage.
Although the woman was taken to a local hospital as a trauma alert due to the seriousness of the crash and the heavy front-end damage her car suffered, Jachles said she managed to escape with fairly minor injuries.
"She was very lucky," he said. "She basically walked away from a serious crash."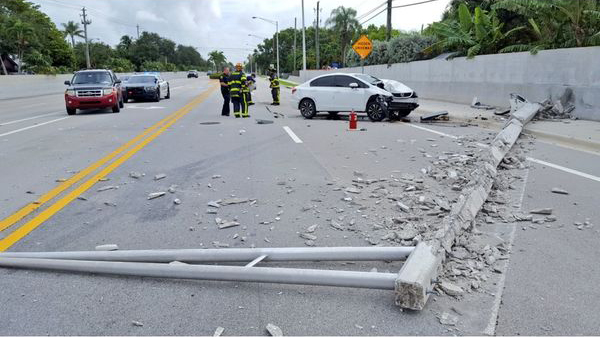 After the scene was cleared, Jachles said he visited the woman, who isn't being identified, at the hospital. She turned down requests to speak to the media, he said, explaining that she "is a little embarrassed."
Jachles said the woman was released from medical care by 2 p.m. Tuesday. Although her car and the pole are losses, the woman herself only suffered minor bumps, bruises and abrasions.
It remains unclear what kind of spider was in the car with the woman. Jachles said the woman told him it wasn't very big. Whether it also managed to walk away from the crash remains unknown.
No further information is being released at this time.
Photos courtesy of Mike Jachles/Broward County Sheriff's Office Department of Fire Rescue & Emergency Services
Originally published June 13, 2017 on patch.com